We bought our house seven years ago this month, and since the first time I laid eyes on it I knew one thing- that the kitchen had to GO. Like all first time, starry-eyed homebuyers, we thought the kitchen would or could be redone with saving for two years, max. We were so wrong. For years I tried to save and failed and tried again. Well, in 2015 I got serious about it and saved all of my freelance checks, so I had a little cushion to start. Then I started looking into how much it would cost to get the actual work done, the one totally unknown number. So I interviewed a couple of contractors. Then the numbers seemed pretty doable, actually. I still didn't have enough saved up or a big enough line of credit on my card, so through the magic of putting myself into some debt with a home equity line of credit and a new travel rewards credit card, I suddenly had enough and started the wheels in motion.
This is the first photo of the kitchen when we looked at it in March 2009. 
With Jim and Andrew Heath of DadNDad Remodeling lined up to come in late December, and my Ikea kitchen plan in place, I started on the demolition, which I did all myself to keep costs down. I started about two weeks before the holiday break and three weeks before the contractors were scheduled to arrive. The things that were mostly form and less function came off first- shoe and crown molding, cabinet doors, and door casing. Then some cabinets started coming down, but let me tell you- they built cabinets way differently back then. These weren't cabinet boxes like I was about to have installed, these were built into the wall with thousands of nails. HUGE NAILS. Patrick and my dad helped with some of the last bits that were big 2x4s that were secured together by all of those huge nails.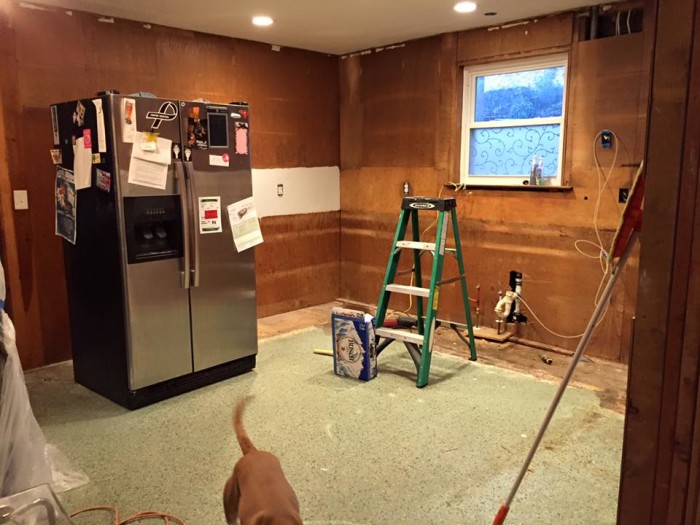 Getting the pine out really lightened up the whole room! 
Since it rolled out in February 2015, I had my Sektion kitchen planned out in the new Ikea Kitchen planning tool. It took me a while and a lot of raging at it but I finally got the software to cooperate on my Mac, for the most part. After tweaks on it throughout the summer and fall, and up until the day before, we went to Ikea to put several thousands of dollars on my fresh credit card. I anticipated being there for several hours finishing up details, but the lady who helped me in the Charlotte, NC store was efficient and filled in some missing pieces for me, along with eyeballing the design for issues.
One thing I didn't anticipate was needing filler pieces to cover up the white sides but she got my fixed up with extras too. In fact, because Charlotte is about an hour and a half away from my home near Columbia, SC, I told her to give me extra of things like fillers, crown molding, legs, and hinges. I didn't want to have to rush up there for a piece as to not stop progress. Making a return trip after the fact seemed much better, and it was. I ended up returning over $600 worth of items, though I did accidentally order an entire extra cabinet thanks to the software hiding one below the floor.
The Ikea building area aka our living room.
In my Pinterest dreams, I wanted a glowing white kitchen. In my reality, the white melamine pantry we had was grubby and I wasn't the kind of person to wash my cabinet doors weekly. My husband wanted a dark, moody kitchen so the gray seemed like an excellent compromise, along with being both trendy right now and hopefully timeless down the road. Plus, with Ikea, if the gray isn't timeless we can just switch the doors right out for another color!
The layout of the new kitchen is very similar to the old one for several reasons. One, to save money. Two, because the old one made sense, and three, I liked it. It just needed some additions. The first need I identified was an extra base cabinet to the right of the stove. We had our trash can out in plain sight there for years and recently the dogs decided to start playing in it. After nothing short of removing the can to the bathroom and closing it in during the day deterred them, the cabinet now is keeping us from the annoyance of coming home to trash strewn everywhere. Another need I had was more pantry space.
Along the wall opposite of the window is a nine foot recessed space that I saw dying for a bank of cabinets. I didn't want a row of lower and upper cabinets though because it looked like it might be too boring and industrial so I put a 90″ tall pantry on each side and a bank of lower cabinets- like a buffet. I saw some cool shelves on Pinterest that "connected" two tall pantries like I had and knew I wanted to replicate the look with some help from my friend Dan who owns D2 Woodcrafting. If you've had a flight anywhere in South Carolina almost, you've probably handled one of the tasted paddles he's created.
I made use of some of the interior drawer features in the Sektion kitchen because all the people I read about who put more drawers in their kitchens had no regrets. Some of the drawers hold my Pyrex casserole dishes so they are no longer in a precarious stack on a high shelf! Other drawers roll out for easy access to snacks, sauces, and my husband's diabetic supplies. Mmm, diabetes. Other larger drawers hold pots and pans and OMG, it's the best thing I've ever seen in my life. Again, no more wobbly stacks!
The upper cabinets are slightly deeper than the ones we had, which equals a ton more space. Like things can now live together instead of being scattered and causing multiple doors to need to be opened. I went for angled upper cabinets in the two corners with glass fronts for visual interest. I love how classy our barware and alcohol looks in it and it forces a little more neatness than might live behind the other doors.
We took a chance on the undercabinet lighting option from Ikea and bought about $800 worth of it after using the color changing plug in DIODER lights for several years. The UTRUSTA is way brighter and is also hardwired in the cabinets at three different points. We also had a few other outlets and recessed lights added while we were doing it all anyways.
Looking for tiles on the Lowe's website I came across this herringbone pattern as a design suggestion for a particular style I was eyeballing. I immediately saved that photo to Pinterest and knew I was going to splurge on that pattern. And when I showed it to Andrew and Jim they didn't bat an eye. Despite all of the cuts this pattern required, they didn't hate me and I still ended up taking a load of tile back for a refund. I have to say, the floor is my absolute favorite detail in the whole space.
Other favorite details include the granite windowsill, the cookie sheet/cutting board cabinet, and the custom made pendant light from One Eared Cow Glass here in Columbia.
I discussed the beginning of the reno, some of the shiny things within, and how to eat during a full kitchen reno too!