Tupelo Honey Cafe
Some restaurants get over hyped. Maybe that super blond guy on the Food Network has been there, or a reporter is BFF with the owner and they get a ton of coverage, or it is on a Sex and the City episode and they have three hour lines for the next decade. So when we decided to stop at Tupelo Honey Cafe on the way to Bryson City, I was thinking that it would probably fall into the same category. Arriving for a very late lunch at 2-ish p.m. on the Friday before Labor Day weekend, I was thinking we'd miss the lunch rush but it was still packed. Faced with a 25 minute wait, I was ravenous and instead stalked the bar and was rewarded with seats within five minutes for Kara and myself.
There are a ton of choices on the menu with some familiar names on there too, like Columbia's own Adluh grits making an appearance. I started out with a housemade lavender limeade which was exquisite. They have several really intriguing flavors on the menu that sound like they'd make a great base for cocktails. Which they also have a lot of great cocktails as well. Kara got the honeysuckle lavender flip which was light on the honeysuckle but still a solid drink.
We thankfully ordered an appetizer because the place never really slowed down the entire time we were there, so our server was hopping the whole time, including making all of the drinks. We chose the fried green tomatoes with a red pepper coulis on a bed of goat cheese Adluh grits. The plate pretty much got licked clean and not just because of straight up hunger. The creamy grits were a good complement to the crunch of the breaded green tomatoes.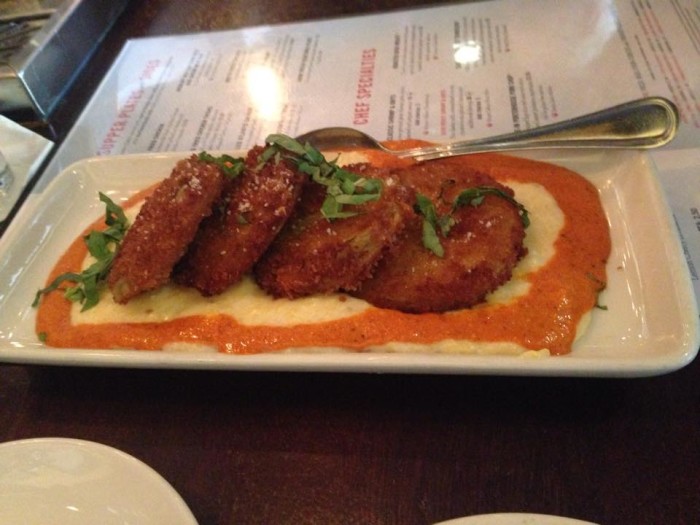 For my entree I chose the Venerated Veggie Bowl, which was pretty much the South, in a bowl. From the bottom up, there was Adluh goat cheese grits, sauteed greens, black eyed peas, tons of fried okra, and a delicate vegetable salsa on top. The greens were amazingly tender and savory, as were the black eyed peas and I vacuumed up every one, though I wasn't able to eat this entire mountain of food. The fried okra bits stayed perfectly crisp the entire time, and though that part of what really filled me up, I kept going on them til I couldn't. In fact, this whole bowl is so good I'm thinking about buying Tupelo's cookbook if that recipe is indeed within its pages.
For anyone thinking about going to Tupelo, my advice is to avoid the high traffic times, which is when everyone else is eating. I tried to go here once on a trip through Asheville a few years ago for Sunday brunch and the wait would have turned brunch into a very late lunch. This is definitely one of those "tourist destination" type restaurants, but definitely not an overhyped one as far as the food is concerned, in my opinion. And make sure to get some of their drinks, don't just stick to water here.
Wicked Weed Brewing
It took a bit of a hike around downtown Asheville to get to Wicked Weed but Kara was up to the challenge with me. We found the brewery and settled downstairs near the bathrooms with amazing smelling hand soap. It was pleasantly crowded for a random drizzly Friday afternoon, with brewery tourists, regular ones, and what I like to think of as a local lady on her laptop chilling and working, mountain-town style. I got the Medora Berry Sour from the Funkatorium and really enjoyed the bright fruit nose and tartiness of this beer, along with the beautiful red coloring.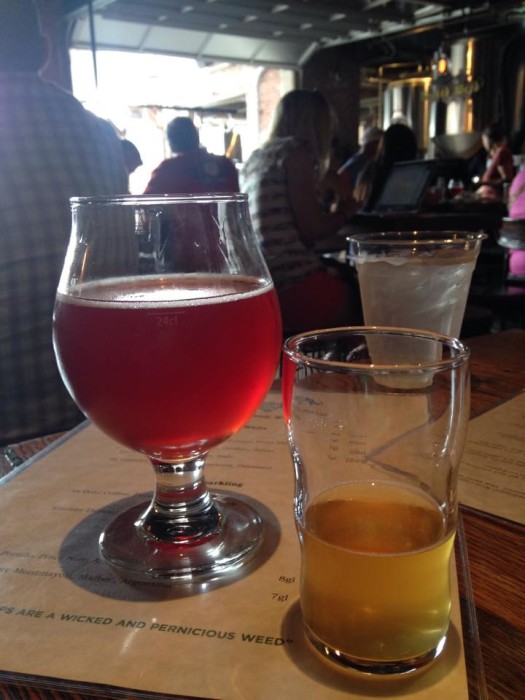 Nantahala Brewing
Another one of my vacation suggestions, I already talked about Nantahala a little in my first post on Bryson City but wanted to reiterate how much I enjoyed it.
Well-Bred Bakery & Cafe
We stopped at Well-Bred on the way back, as a last lunch before we had to part ways after a wonderful weekend together. Our original plan was to go to another place across the street but with an hour and a half wait time we were like no, no way. Well-Bred had no wait and plenty of tables and options. A cute little bakery in the Biltmore Village, there were coffee drinks, pastries, cakes, cookies, quiches, sandwiches, and an array of salads for a tantalizing choose three plate. I don't remember a lot about this place except that it reminded me the wonders of the pea salad, which I've been obsessed with since. That, the sesame noodles, and the pesto pasta salad rounded out a perfect lunch for me, with two coffees on top. I would 100% recommend again. Much better than that other place with its insane wait times.
And this list of places is just a dent on the scratch of the surface of all of the options available in both mountain towns, but I think we did a great job of finding only good ones to go spend our money since we mostly stayed at the cabin and cooked there the whole weekend.