If you lived in Columbia in the early 90s you knew what Bull Street was, even if in a vague way. That's where they sent crazy people to live because they were too crazy to function in society, people said. And as a kid, what that might even mean is pretty unfathomable. Then quietly, sometime between then and now Bull Street closed its facilities.
But on the cusp of it being shuttered to the public forever before parts of it get torn down, a few inquisitive photography lovers became curious about documenting the ruins and the mystery of a place that only a few visited and no one that was actually there dared to discuss. With a few good connections, one last photography allowed group was let in to carefully explore the 184 acre ground that housed the insane of the Midlands for decades. We looked around for a building that supposedly still had the words "Lunatic Asylum" inscribed on it but I don't think anyone did. This was about as close as it got:
On August 3rd, 2013 at 9 a.m., we met at the boarded up entrance to the Babcock Building, the stately, columned one that greets you after driving down the magnolia lined drive.
There were no trespassing signs everywhere, and we were instructed not to touch or go into anything.
I was very interested in the windows on the Babcock building. A lot of the windows were boarded up, but notice how pretty the iron bars that held the patients in are. Someone was saying that it was to make them feel less like prisoners.
Though the ones that weren't boarded up were definitely in just as bad of condition.
From there we split into two groups, one for the ones who wanted to find the perfect shot, and another who wanted a more leisurely and educational experience. I headed off with the photog crowd since I didn't want to get left behind and photography people like to linger.
You could tell that this place was frozen in time in a lot of ways, like this Will Return clock that was set to 4 p.m., forever.
Some of these buildings are pretty old, but have held up structurally because the brickwork looks to be in good condition.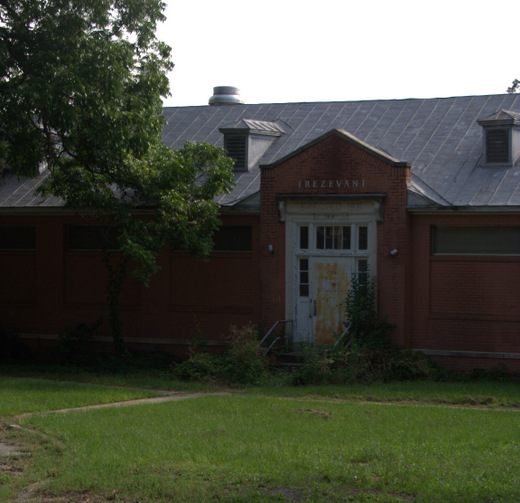 The next few photos are just random buildings. I ended up losing track of the photography group and in with the leisurely strollers somewhere around here and got to hear some of the history, which was very cool in a sad way. One of the participants said her grandmother was housed here back in the early 1920s.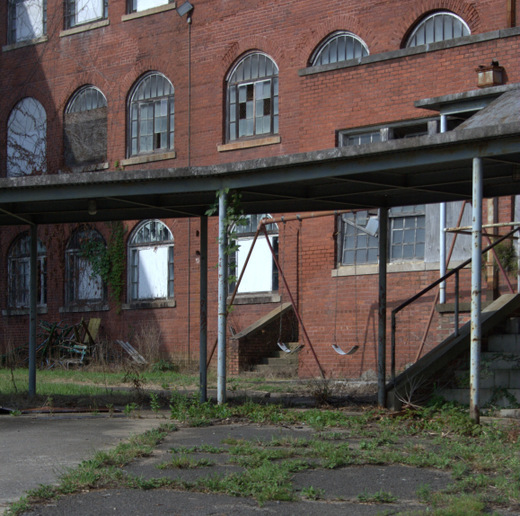 See the old fashioned gurney below?
Again, with the windows. I couldn't help but notice the crooked blinds, and my overactive imagination thought about someone pulling them down trying to claw their way out. Although this window has no bars, so maybe this wasn't a building for patients.
Not sure why but this sign seemed like it needed to be documented.
There was even a morgue on the grounds, because as it was said a few times, this facility functioned as a city itself within the City of Columbia.
Echoing the look of the Babcock Building up front was the Williams Building, farther back and to the left if you're standing on Bull Street facing inwards.
These were referred to as the doctors' houses, located adjacent to the Chapel of Hope.
I saw a few of these signs and thought they were ironic since most of the people there didn't have this option.
And closer towards the actual street you can see this juxtaposition of the old Robert Mills designed building with the regularity of the rest of the city just beyond in the form of billboards and bank skyscrapers.
One of the last photos I took was this, which I missed on the way in. Good thing they knew we were there for photography purposes!
Many thanks to Elza for organizing this endeavor. It was an excellent, enlightening experience. While the City is super duper excited about the plans that developer Bob Hughes has in mind, and Historic Columbia opposed any razing of the buildings, I am torn about my thoughts on it. Luckily I'm not on City Council and no one is asking me my opinion on it. One last parting word, do NOT go on this property without contacting the public affairs office at the Department of Mental Health or you'll get carted out by their vigilant security detail with nothing to show for it.
To catch up with us for future Instagram/photowalks, follow the hashtag #igcolumbia on Twitter and Instagram, and to see others' photos. For more of my photos from this walk, check out my Facebook album and LIKE my page while you're there!