When I picture something in my mind that I want, no substitute will do.
That's why when I decided that I wanted a new dresser earlier this spring, I measured the size that I would want and mentally pictured exactly how it would look, then started hitting my usual thrift stores in a a frequent rotation, hoping what was in my mind would materialize. Then one afternoon on a whim, I stopped in one that I usually never go to because the one time I did go it looked like a bunch of old hotel furniture- not the look I would ever have in mind.
But I stopped and within fifty feet of the door I saw it. The price on the back said $175, an insane amount of a piece of thrift store furniture, nevermind one that had been through its share of insanity, like nail polish (or something) spilled all over the inside of most of the drawers. I was about to walk away then circled back to it. "Do you have a tape measure?" I asked the lady behind the counter. She produced one for me and the measurements were EXACTLY the ones I had in my head to fit the space I was looking to fit, 41″ high by 40″ wide. No way. Yes way. I took a photo then decided to walk a lap around the entire store to make sure there wasn't anything else similar.
Because I knew that with weeks of searching already behind me, that this was THE dresser and it was about to be haggling time. This thrift shop supports some charity, so I didn't want to seem greedy, but I asked the woman if the price could go any lower. She told me to make an offer, so I did, and that knocked a good chunk off of the price. In all honesty I still probably overpaid for this a bit, but again, this was a charity store and this was the perfect piece. I paid for half and arranged to come back for it the next Saturday with a truck and pay for the other half.
I knew this piece was destined to get a gradient treatment since I had just gotten the Young House Love book
and was obsessed with it. A trip to Lowe's and a few paint chips later, my colors were decided, and I bought one quart of white paint for the body and test pots of only four shades of gray.
After wiping down the entire dresser and each drawer with a water-vinegar solution, the next step was sanding, then the painting. I was incredibly meticulous about this project, which takes amounts of patience that I wasn't sure I could exude. Next came drilling in the holes for the handles, which took more math than I generally prefer. A few hours of cutting and Mod Podging the pretty wrapping paper to the bottom was the last step before it could finally be moved into its new home. Overall, with a little time on most days, this project took about two weeks from start to finish, and most of it was a lot of drying time.
Believe me, putting my clothes and things into this new dresser that still has extra space for more was worth all of the annoyances that came with creating this. But I still look at it multiple times and day and mentally sigh with happiness at its gloriousness.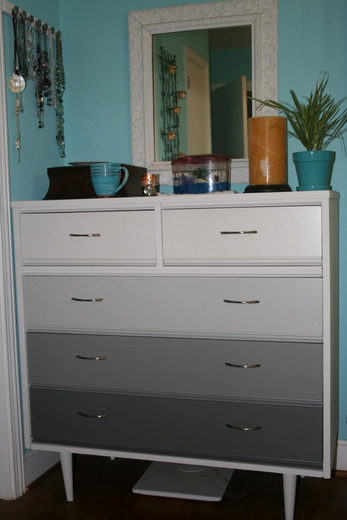 The second drawer even has a divider built into it!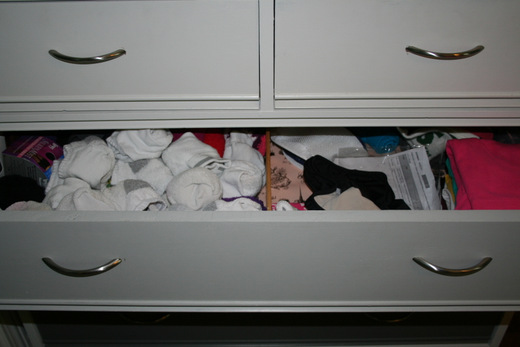 And of course since I am so proud of this, it is much less of a clutter catcher than my old dresser. A coaster also stays on it at all times because if a coffee ring got stained into the top of this I'd have no one to be mad at but myself, and I like me too much for that. Do you see my beta fish in the photo? I've had him for four years, ya'll. Fishie has adjusted to his new home very well, and since it's about ten inches higher than the old dresser, the jerk cat won't come and bat the tank around.
Can you spot my amazing anchor necklace by reSLICEd?!The jewelry holder is another one of my DIY projects. It's just a piece of wood cut to size at Lowe's with evenly spaced drawer knobs screwed into it.
Now I am on the hunt for a similar mid century modern nightstand with two or three drawers and those pretty little legs. If you see one local to the Columbia area, holla at me. Anyone else been doing any DIY projects lately? It's been so rainy there's almost nothing else to do except for things inside anymore.