Ever scrolled through Pinterest or Foodgawker and wondered how those people made such gorgeous still life setups and photographs of their bowl of granola? Have you wished that you knew how to manipulate the lighting in your windowless kitchen so that you could have nice photographs for your blog?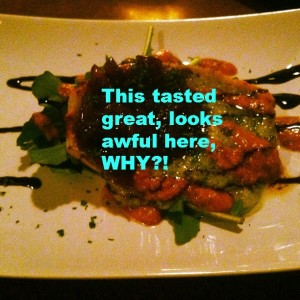 Me too! So I sought out the fabulous Caroline of ChocolateAndCarrots.com to lead a session and teach us some of the tips and tricks that she has taught herself throughout her time as a pretty prolific food blogger and writer! Hailing from Charleston, SC, Caroline is a graduate of the College of Charleston. She married her college sweetheart and moved to Columbia, SC where she resides with her husband Logan, and their baby son, Liam. She also writes for Land O'Frost, Blissfully Domestic, and the Huffington Post. Her photography skills have evolved throughout her blogging time and are largely self-taught.
This class will be held on May 11 at 2 p.m. at Charleston Cooks! located in Cross Hill Market (beside the Whole Foods Market). Please bring a camera that you are already comfortable using, be it a point and shoot or a DSLR, or even an iPhone (though your range will be slightly limited). The class will last approximately two hours. Tickets are $30.00 and can be purchased right here.
We will be learning how to work with the light that we have available and what everyday equipment we can use to work with the light sources we have available, and the different types of light that work best for what situations; how to use props, dishware and garnishes to set a food scene you'll want to be a part of; and how to photograph difficult foods will all be topics covered, and more!
We'll have food and drinks from local businesses available that we'll dive into after we use them as photographic examples! If you know of a local business or restaurant that would like to sponsor this event, please email me. If you have particular props that you'd like to learn how to best utilize in your photographs (say, a pretty martini glass or a fun plate) please bring it with you. For more information on the Columbia Food Bloggers please visit our landing page here.
Yes, please?