Who else has heard about this new ramen place on Gervais, wondering and waiting for it to open? Raise your hand if you heard the noise about it via Twitter! I didn't realize it was open until last night when I was forced to tag along to the Art Bar for game night (not knocking game night, I just wasn't a willing participant that night) and saw the red and green lights from Menkoi Ramen House shining across Gervais. I told Patrick that I was going to go investigate and he told me he heard it was open and gave me some money to get us dinner (like a good husband does).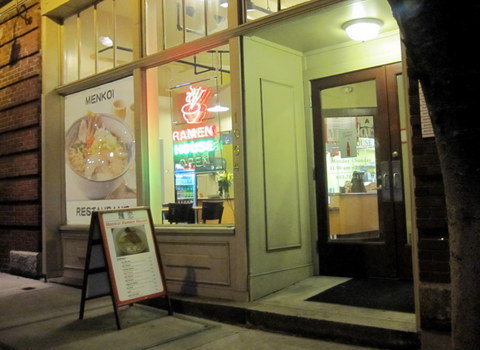 It really was open, so I headed in and placed a to go order for the vegetable ramen (surprise!) and I chose the spicy ramen for him. While waiting for it to be ready I looked around, checked out more of the menu, and asked the guy at the register when they had opened. It was very recently, just this past Thursday the 12th. Being that they were still freshly new they didn't exactly have a to go system in place yet so our order came in big Coke cups. Being that we were going to eat them at the Art Bar, this suited me just fine but since they are located in the downtown lunch district and a lot of people get food to go, they'll probably figure that out sooner or later.
When we unpacked the bag at the Art Bar I realized just how much food we really had. There were two cups full of noodles and three full of broth, one being the spicy and two being my vegetable. Patrick took his and I took mine and combined the savory, fragrant broth into the all-too-familar squiggly yellow ramen noodles, just like the ones you buy in the store for twenty five cents. But the ramen from Menkoi isn't about the noodles, it's about that broth. In between slurps I got from Patrick that his was spicy, but spicy good. He sucked down as much as he could and shared about half with friends who were curious about what we were both fumbling into our mouths with chopsticks with a voracious vengeance.
I didn't notice this sign regarding requesting vegetarian broth until after my order was being made and I don't believe they actually gave me the meaty broth since the cashier that took my order referred to my noodles as "vegetarian" but this is important to note for anyone who is insanely, vehemently opposed to ingesting any sort of meat. It's the little things like this that vegetarians really appreciate from restaurants so we don't have to ask a million probing questions, or ask none and hope that we don't end up throwing up everywhere.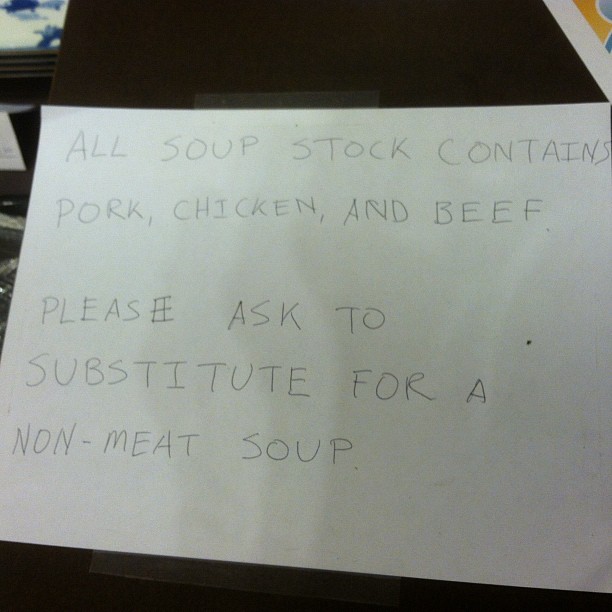 My vegetable ramen consisted again, of the noodles, a translucent dark brown broth dotted with chopped scallions, and another cup with a lighter brown liquid that contained chopped cabbage and mung bean sprouts. The sheer volume of food and broth that you get for the price is enough for two people to share. I surely couldn't have finished my whole order alone, and as it was we were both incredibly sleepy after consuming our fills. Sleepy enough that we were only at the Art Bar long enough to just eat our food. It was so good, and we kept commenting on it and probably sent a good handful of people their way last night.
I also found out today by way of Twitter (again with the Twitter! are you following me on there yet? @theaprilblake) that Menkoi is owned by the same Mr. Sato that owns Inakaya. Mmm, no wonder it's delicious, and it also answers the one question I had about this place which was, "Is this authentic?"
Though I will only ever order the vegetable ramen, and next time will order the tofu rice ball, I still feel confident recommending this place, especially to my downtown working lunch crowd for midday, my drunk bar crowd because they're open til 3 a.m., and my everyone in between crowd because we all like new restaurants that aren't the same old wings and burgers. It's at 1004 Gervais Street almost at the corner of Park and Gervais, directly across from the Marble Slab.