I had a lot of potatoes. And a lot of squash. And two recipes that were delicious. I was missing an ingredient for one of them. And I really liked the method for making the other. So I did something delicious and awesome and combined the two of them to make scalloped potato and squash gratin!
Please note… the photos below show where I used a 9×13″ pan. I would recommend using a 9×9″ pan for a taller, more layered casserole rather than a long, thin one.
From ingredients…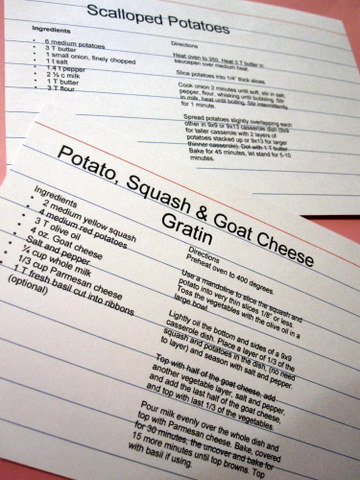 To delicious!
Ingredients
2 tablespoons butter
1 tablespoon olive oil
3 russet potatoes
3 medium to large size squash and/or zucchini
1 onion finely diced
1 taspoon salt
1/2 teaspoon black pepper
2 1/2 cups milk
3 tablespoons flour
Parmesan cheese
Directions
Preheat the oven to 350 degrees Fahrenheit.
Heat the butter and olive oil in a saucepan over medium heat.
Meanwhile, slice the potatoes into 1/4″ thick round slices. Slice the squash into 1/4″ thick slices lengthwise.
Saute the onion until soft and translucent in the heated butter and oil, about three to four minutes. Whisk in the flour, salt, and pepper until thoroughly combined. Whisk in milk and heat until bubbling, about a minute, stirring every few seconds then remove from heat.
Spread the potatoes and squash slightly overlapping each other, alternating layers of potatoes and squash.                            
Evenly spread the milk-onion mixture over the potato and squash and gently shake the pan to spread the liquid around the pan. Top with Parmesan cheese, as much as you see fit. I spread a thin, even layer and called it a day.
But don't call it a day yet, cover it with aluminum foil, put it in the oven for 40 minutes, then remove the foil and bake for another 25 minutes or until the top is satisfactorily browned. Remove from oven and let it set on the counter for 10 minutes, then serve. Mmm.