Remember the knife skills class at USC that I attended a little while back? They sent us home with a packet of recipes that we had made that night and the cabbage rolls stuck in my mind. Upon seeing cabbage for 39 cents a pound at Bi-Lo I knew that these cabbage rolls needed to happen, because hello? Cheap!!!
Cabbage Rolls
Recipe adapted from Robert Stegall-Smith, CEC, AAC
Ingredients
1 head of cabbage (save large outer leaves, shred the inside)*
2 tablespoons olive oil
1 onion, diced
salt and pepper to taste
1 teaspoon caraway seeds
toothpicks
Directions
Carefully remove the large, darker outer leaves from the cabbage head and set aside. You should have about ten good leaves per head, don't worry if you tear them a little, it happens. Remove the hard core and roughly chop the remaining cabbage into small pieces.
Heat the oil in a large pan over medium heat.
Saute the onions, shredded cabbage, caraway seeds, salt and pepper til onions are softened and translucent.
Add 1 cup stock or broth to pan and increase heat to medium high. Stir in pan and saute until liquid is gone.
One at a time, place a large outer leaf on a flat surface, spoon in about a 1/4 to 1/2 cup of the shredded cabbage mixture and roll up eggroll style (demonstrated below in a cool GIF!). Secure with a toothpick.
Let sit for five minutes so the heat from the cooked cabbage will soften the outer leaf. You can put the rolls under a lid or in an enclosed tupperware container to facilitate the steaming of the outer leaf for quicker softening.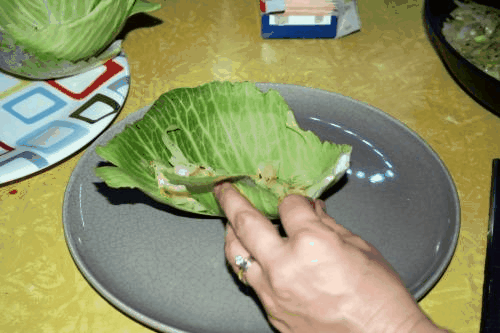 *I halved the ingredients when I made this because I didn't want to be eating cabbage rolls for days on end since it would be just me eating them (and Patrick had one). These would be great for inexpensive, healthy and filling party appetizers!
Speaking of Patrick, thanks for taking the photos that resulted in me being able to make that cool GIF!!