There's nothing like an easy dinner to warm you up quickly when it's really cold out. This one can be done in the time it takes a rice cooker to be done with a cup of rice, or about 20 minutes.
The base of the dish is this great green curry simmer sauce from Trader Joe's It's not very spicy on it's own, so if you like your curry with some heat, you'll want to add in some diced hot peppers. This dish also reheats really well for lunch leftovers. In other words, it's a pretty perfect meal.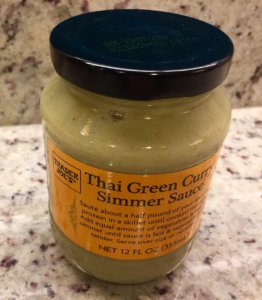 Rice & Vegetables with Trader Joe's Thai Green Simmer Sauce Curry
Ingredients
16 oz bag of frozen stir fry vegetables
1 block of TJ's Savory Baked Tofu
TJ's Thai Green Curry Simmer Sauce
1 tablespoon + 1 teaspoon peanut or coconut oil
1 cup of rice
1 cup of water
Finely chopped hot pepper of choice (optional for more heat)
Directions
Cook 1 cup of rice using your favorite method, I use a rice cooker. It should be done by the time the vegetables are.
Cut the tofu into small triangles.
Put 1 T oil over medium  heat until it shimmers.
Gently add the tofu triangles to the hot oil and let warm up for 3-4 minutes on the raw side and less than one minute on the baked side.
Remove from heat to a plate on the side.
Add a teaspoon more of oil to the pan, turn the heat up to medium high, and wait until it is warm again.
Carefully add the frozen vegetables and stir to coat. Make sure they are in a single layer in the pan.
Flip vegetables occasionally for the next 7-10 minutes as the vegetables begin to brown a bit.
Lower the heat to medium and add tofu back to pan.
Pour on 5 ounces of green curry simmer sauce, or more or less to taste, and gently use the spatula to coat the vegetables and tofu and heat through.
Remove from heat and serve over the rice that should be done now.
Up next I'll be posting on how to make your own savory baked tofu.