In those ugh months of winter I saw an ad online where JetBlue was trying to entice people to click through with promises of $44 airfare. Feeling the urge for some sort of break, they lured me right in where I began perusing the places I could go for a fairly inexpensive airfare when CHS to DCA $80 caught my eye. Yes, a flight from Charleston to Washington, DC. And conveniently enough, a friend of mine lives up there, so I started a group Facebook chat with her and another friend. Within the hour, we had $80 tickets to head up there in mid May! It was nice to have that to look forward to as I stumbled through the remainder of the semester (how you think of life when you work at a university).
The time sped up and soon Kara and I were in the car heading to the Charleston airport. Then we were on the Metro. Then we were there! Our trip began Friday, May 13 and we got back home on the 18th.
This trip was mostly about two things: hanging out with Rae, and eating a lot. We accomplished both of those things, and balanced out the eating with plenty of walking. DC is not an easy city to get around in when you have a lot of places you want to go within it. But we mostly stayed in the Shaw/Howard neighborhood, also venturing out to the zoo and monuments one day, and Georgetown for dinner one evening.
Immediately upon arrival we were starving and popped over to a little place called The Royal in Shaw for something, anything to eat. Luckily, this place was fantastic. I went for the fries. But these aren't just any fries. There is some sort of garlic sauce, cotija cheese, and scallions topping these thick, crispy potato wedges.
Friday after we settled in from the plane ride, Rae and I headed out to some breweries while Kara did some wedding stuff. We hit DC Brau and Right Proper Brewing. I wanted to go to more, but I had been sick as a dog the two days before the trip and didn't want to tempt the balance of my stomach with too much carbonated booze. I have to say, I didn't love the DC Brau options that much, and I'm glad we split a flight, because we still ended up leaving most of the beer there. Even their hefe, which I've had before in cans, was a little too banana-y and I swear it wasn't before.
Bathroom art in Right Proper. It looks like Radar!
That night Rae and I went to Ping Pong for some dim sum since neither of us had tried it before. This was a pretty short walk from her neighborhood through a cute street with a community garden that was wandered through.
Ping Pong is one of those mod-Asian style restaurants where everything is gleaming and posh in a clean line kind of way. We got a great spot looking onto the sidewalk and proceeded to order a ton of food to share between us. Dim sum is like Asian tapas — small plates that are meant to be shared.
Saturday we went to a DC style brunch, where the menu was prix fixe and you were meant to linger there for several hours, which we did. We went to Medium Rare, which is a small, loud little establishment in the Cleveland Park area. After getting tired of being there, we walked to the Eastern Market which is like the Soda City market times five, with an indoor/more permanent component, and browsed through the vegetables and dozens of artists selling paintings and photographs of famous areas around the district.
It was starting to look like rain by then but we also wanted to go on the European Union Embassies' Open House tour so that we could be on foreign soil without actually leaving the country. However we only ended up getting to go to Luxembourg because by then it did start raining and the temperature dropped by about 20 degrees. We were not dressed for it, and Uber surge pricing did just that so we sucked it up and walked most of the way back.
I will forever regret not knowing what makes this gallery very special.
After drying off and warming back up we found a nearby Italian place to satisfy our carb cravings and enjoyed a fancy meal at Al Crostino, followed up by boozy milkshakes for dessert at the Satellite Room. Milkshakes and booze and cereal? Perfect. Instead of having a crazy DC Saturday night out, we went back to the house and just relaxed with some snacks. It was too chilly for our liking to be out walking around all night anyways.
Trofie alla Genovese featuring pesto, diced potatoes, and green beans
Boozy shake with Bailey's and Cocoa Puffs
Sunday morning brought with it some sunshine so I took a stroll around the neighborhood, just observing the personality people injected into their tiny front yards and little two or three window wide DC homes.
Our big plan for the day Sunday was to go to a little food festival that wasn't really near any Metro stop so since the weather was pleasant (in that a jacket was definitely required) we walked the mile and a half or so there, then back, stopping for a snack at Boundary Stone Public House on the way. I went for the seitan "wings" since I'd never seen anything like it before. They were good, little saucy nuggets of seitan that went well in the bleu cheese dressing. I'd like to figure out how to make these myself and dress them with buffalo sauce. But we had to make sure to not fill up too much, since dinner was Spanish tapas at Bodega in Georgetown.
We arrived in G-town a little early and I wanted to see if we could score a Georgetown cupcake from the place made famous by the TLC show but everyone else had the same idea. There was a line and they closed at 8, plus we had reservations to make, so we hopped back out of line, cupcake-less.
Bodega was an interesting experience. We walked back, and back, and back, and back to the very back of the restaurant and though the place wasn't very busy for a Sunday night, the service wasn't that great. We waited a while each time for the server to come back and take our drink orders and then to refill, and so on. But the food was delicious, and again it was a sharing style meal so we passed around plates and tried a little of everything. The meal ended with a fantastic coconut sorbet that I am eager to recreate at home with the ice cream maker. It was definitely full fat coconut milk, creamy and icy and perfect. I took no photos here because it was super dark in there.
Monday was the walking heavy day. We started out at the National Zoo, and Rae had to leave us halfway through to go to work for the day. But we saw THE PANDAS! They came out to munch on bamboo and play right there, including the baby one. It was really amazing to get to see these animals that so few people get to ever see. And conveniently enough, this panda video with captions has been going around Facebook and after seeing how the other panda slept, they really do seem like funny little drunken creatures.
Two seconds after I took this, a little kid grabbed the bird and it bit at him. I laughed. 
After walking probably four miles through the zoo Kara and I zombie walked to the nearest place with food. Luckily it was a cute Italian place called Lillie's where we got a life-reaffirming meal, along with an energy boost from caffeinated tea and delicious carbohydrates.
Following that we were able to navigate our way to the Metro and towards the monuments. We did a brief loop by the basin to see Jefferson, FDR, Lincoln, MLK, and the Vietnam Veteran Memorial.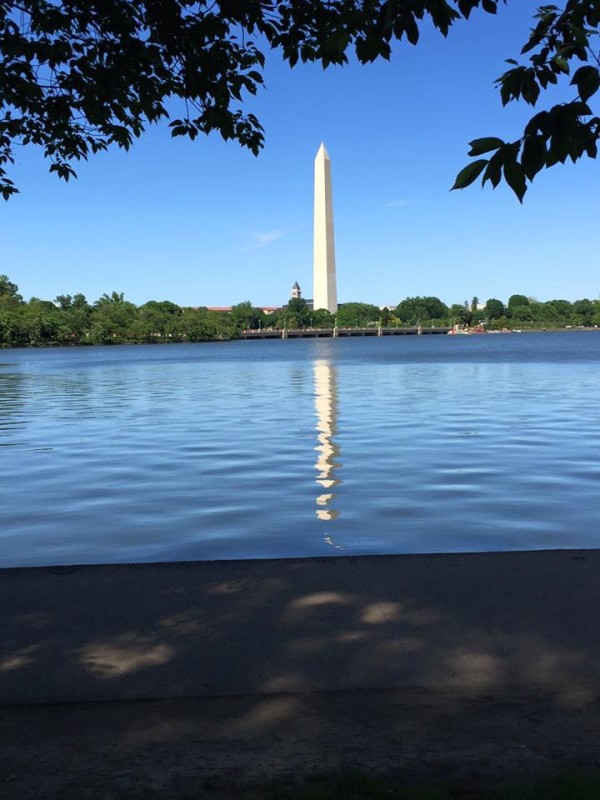 From there we just threw ourselves in an Uber during rush hour traffic because the idea of braving the Metro at 5 p.m. on a Monday didn't seem smart for car-dependent people who aren't savvy in the ways of the train commuter lifestyle. If you go to DC, definitely download Uber. This was my first time using the service, though I depended on my friend's use of the app since I didn't have it.
Dinner that evening was a .3 mile away walk to Beau Thai which was mod, refreshing and exactly what we needed. I started with the garden rolls and a Thai tea, then progressed on to drunken noodles with tofu for my main course.
And after an evening of hanging out with our feet up, it was time to pack up and get ready to hit the airport early Tuesday morning. And that is how you celebrate finding cheap airfare and spending time with friends! And for the record, I definitely enjoyed DC more when it wasn't frigid.