A few weeks About a month and a half ago I was down in Orangeburg County, where Patrick is from, and we were taking a ride on back roads that he knew well. We had several missions at hand that day. One was to visit a friend of ours who we haven't seen in ages, the other was so that Patrick could play Ingress, this GPS based capture-the-flag style game that he's obsessed with, and also to visit God's Acre Healing Springs.
The springs are located in Blackville, South Carolina- a small, small town that people seem to grow up in and then leave. One of it's few attractions to anyone who isn't living there are the springs, which are not very easy to find. It's a sparse place, Patrick warned me, and he was right. It's two signs, a monument, and the springs. But really, that's all that it needs to be.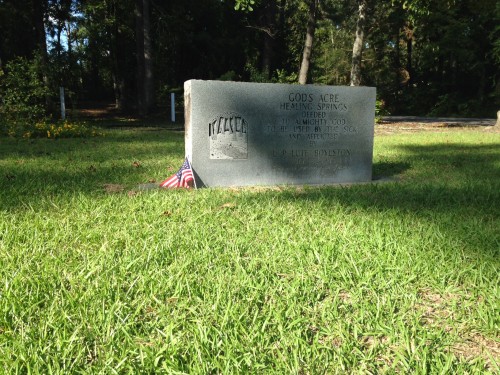 The lore of the springs is that Native Americans guided wounded soldiers to drink from the springs because of its magical healing properties. The soldiers recovered quickly and believed too. But the property came under the ownership of Lute Boylston in 1944 and he too believed in the powers of the water so much that he wanted to make sure that they went on forever. So he deeded the property to God. Yes, God, because South Carolina is the buckle of the Bible Belt and no one could argue against that. So the property does still remain, with water flowing from several spouts every moment of every day, for people to come fill up their jugs and jars with free healing water.
Some people come religiously to fill up five gallon water jugs weekly and will only drink that water, that's how deep their faith in the liquid runs. The area around the springs is just a wooded area with a small creek running through it. At first it doesn't look like much, but venturing in further shows the true beauty of it, even with the human elements of the faucets added in, which do make a soothing trickling sound.
And of course you can't have a place named what it is without a cross present.