Summertime is for taking time off to enjoy the weather, so a few weeks ago I scheduled some time off for yesterday and today for a nice luxurious four-day weekend. Because I spent the actual weekend mostly sleeping for some reason, I made the most of the other two days including lunch at a new (to me) place that I've been meaning to try.
After seeing a post on Facebook about a mac and cheese tomato pie from Spotted Salamander Cafe, that pretty much sealed the deal and I dragged Patrick there for lunch. Beware though, if you ask Siri for directions she'll try and take you to Assembly Street- it's really on Richland, which I realized and course corrected before we got too turned around in lunchtime traffic.
When we arrive the line was nearly out of the door, and almost every table was full, and it was kind of loud in there from all of the people enjoying their lunch break. Luckily we were able to snag a spot outside and the clouds kept our time out there mostly overcast.
Since Spotted Salamander doesn't always have a lot of meatless options I took advantage of one of the daily specials, that tomato piiiie. It came with a side salad and I added a Boylan Shirley Temple soda in a bottle because I've never seen that flavor before.
I was trying to figure out the structure of this thing, it's like a baked mac and cheese with tomatoes on top, then the traditional mayo/cheese mixture, and then a puff pastry style upper crust that came together in a messy chunk of cheesy, carby goodness with a wallop of fresh tomatoes that I continued to taste in my burps for a while afterwards (it's real life here, ya'll).
Patrick went for the pork belly Cuban with BLT pasta salad on the side and declared it "frisky".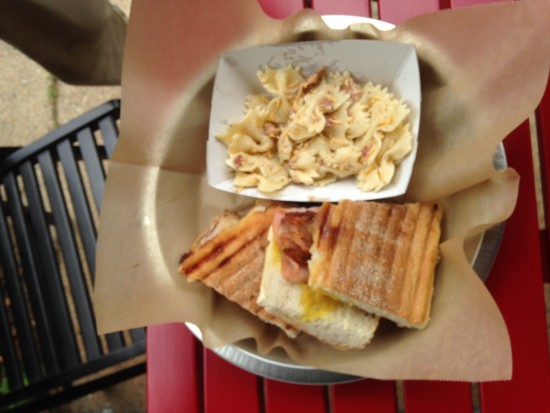 To keep up with the largely rotating menu of specials, follow them on their social media channels, or just ride by slowly to catch their chalkboard menu by the road. These are also the folks that brought the cronut (or croinut, as they call them) to the Soda City Market, and they have a rotating menu of croinut flavors, and those things are enormous! I wanted one, but not that much of one with lunch, so I might make that a treat yo'self day deal in the near future.