You know those recipes you see on Pinterest and think, "Ugh who are these jerks making these things?"
After seeing such a recipe of a spiralized tian I finally decided to give it a go to get rid of a bunch of yellow squash before my next Pinckney's Produce CSA box for the box arrived. The tian recipe I modeled my construction on consisted of eggplant, zucchini and yellow squash, but I wanted to model mine on a potato and squash gratin recipe that I use quite frequently when I get to that point of the CSA season where I never want to see a squash again (it rarely lasts though).
Out came the mandolin and with a small prayer to the god of sharp surfaces, I started slicing my squashes and large baking potato into 1/8″ thick slices while thinking about how in the world I was gonna assemble this thing. I knew it would be a huge pain so I called in reinforcements. "NOODLE, C'MERE I need your hands!"
He tried to convince me that I needed toothpicks but I said NO. …Also I had none as they got used up for a SC Girls Pint Out event and I haven't replenished my stock. After realizing that four hands was going to be too many, he suggested I spiral ON the pie plate instead of on the cutting mat with a hope to lift and transfer over. He was correct this time. For those who want to make this, do not do it after a frustrating day at work, or when you've just woke up with the intent to have a storm cloud over your head kind of day. Save it for a day with a bit of patience. Or… buy small individual serving sized baking dishes for me these bad boys because honestly, that's what I'm going to do in the future.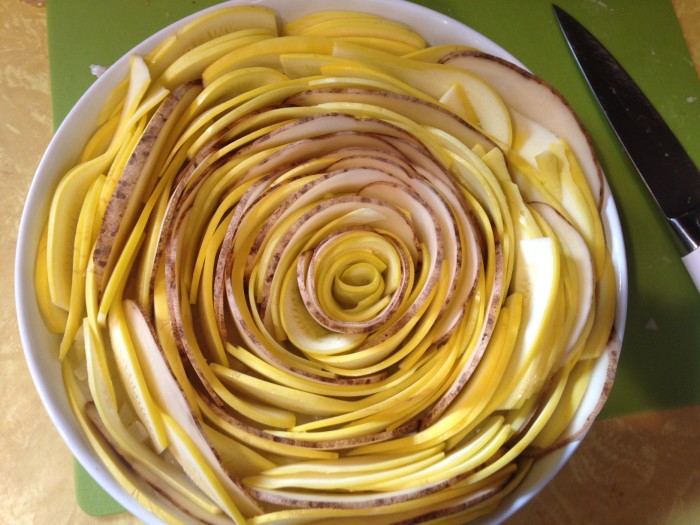 A tian is named such for the dish that it is cooked in, a shallower dish than a casserole and historically a bit cone shaped from the bottom up. A tian also used to have liquid added but more modern ones have no liquid except what comes from the vegetables as they cook. I hesitate to call the dish I used a real tian, but it does the job. It's just a SMARTA pie plate from IKEA, and it makes nice presentation and easy transporting for dishes.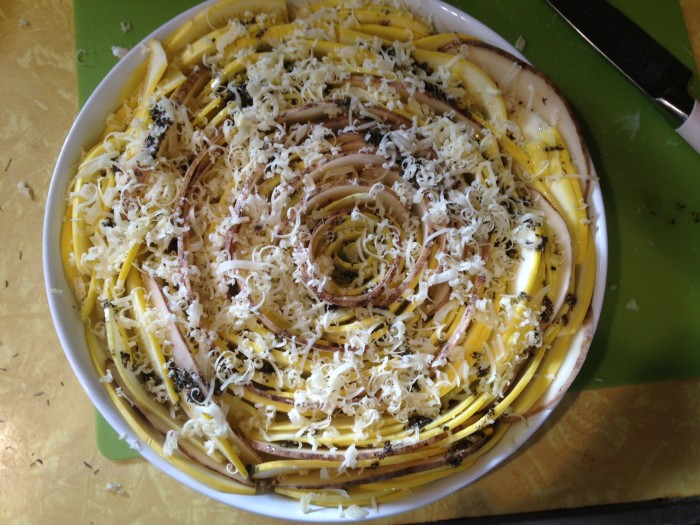 Summer Squash and Potato Tian
Ingredients
(this is for a 11″ diameter pie plate)
1 large baking potato
4-5 summer squash (I used yellow crooknecks but zucchini would be fine and probably easier!)
1 medium onion, diced finely
2 garlic cloves, minced
3 tablespoons olive oil, divided
1/2 teaspooon basil
1/2 teaspoon thyme
salt and pepper to taste
2-3 ounces cheese, grated (I used a white Kerrygold cheddar, but Parmesan, Asiago, or even goat would be great)
Instructions
Use a mandolin to slice the potato and squash longways into 1/8″ thick slices. A knife would do the job but probably not without unevenness and extreme annoyance on your part. Be careful with the mandolin, it HURTS. The best way to slice is to cut the vegetable down the middle longways once, then hold the curved side (or use a safety guide, usually included in the mandolin) to run the flat side down against the blade. Discard the smaller pieces that are left.
Preheat the oven to 375 F.
Heat up one tablespoon of oil over medium high heat in a small saute pan. Toss in the onions and garlic until the onions are translucent.
Spread the cooked onions and garlic out in the bottom of the pie plate (or smaller vessels if using) and prepare for the fun part.
Stack up the potato and squash slices and cut longways so you're making long strips of the vegetable. See the photo for a better idea of what's going on, but after you cut a stack, put them aside so that the flat sides all stay the same direction, you'll understand why in a second. 
After the vegetables are cut longways, start with a piece of squash and roll it up into a tight circle. Keep adding vegetable strips, flat side DOWN, alternating squash and potato, overlapping the ends with each new piece if possible. It will become too unwieldly for your palm after a bit.
At the point it becomes too large, place it in the center of the pie plate, directly on the onion/garlic mixture. Keep wrapping vegetable strips using your hands to keep it tight as long as you can.
After you cannot keep it tight with just your hands, stagger vegetable strips in a circular fashion around the coil and just keep packing it around the circle until you run out of vegetables.
Once you're satisfied with the coil, mix the herbs and seasonings with the remaining 2 tablespoons of olive oil and drizzle evenly over the vegetable coil. If you have a silicone oil brush, feel free to use it lightly to spread the oil around.
Next, grate the cheese over the dish and stick that sucker in the oven for 30-35 minutes, uncovered.
Serve immediately, using tongs to pick up part of the circle and destroying your beautiful creation.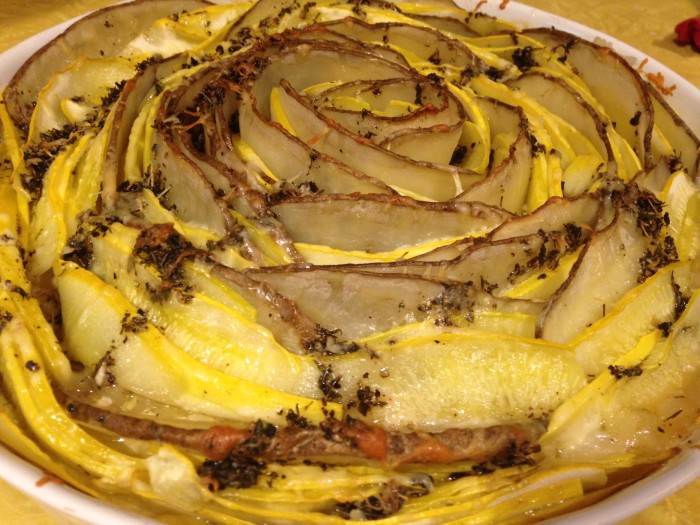 How do you slice it, you ask? Don't. Use tongs!