Let's discuss a very unlikely place to want to discuss: Lancaster, South Carolina. It's a place that kind of marks halfway from Columbia to Charlotte for me when I'm on I-77. And that's about as far as my thinking on Lancaster went until I discovered Benford Brewing by way of a road trip up there with a convoy of South Carolina Girls Pint Out members. Anyone that's ever been to breweries knows that they are mostly in industrial type areas, usually in a big warehouse space. But Benford is different. It's… it's a giant garage. Next to a cow pasture. Next to the owner/brewer's house. Bryan used his pool maintenance knowledge to fashion a brewery next to his house, and he brews some really good beer.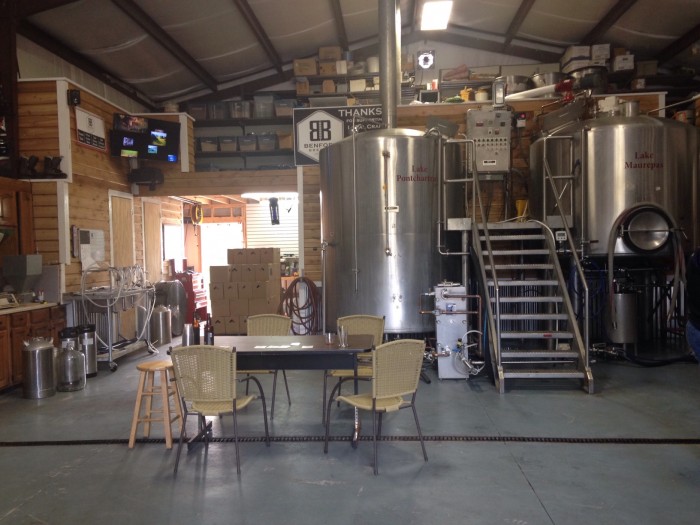 So when I was looking for a beer to replace Guinness in a macaroni and cheese recipe, I ended up going with Benford's Southern Tater sweet potato ale because the savory palate would add a depth of flavor to the mac and cheese dish. (thanks for the help on beer selections, Nick!) And it is so good that even after a filling meal of this and some peas (and the leftover beer too!) I can't stop nibbling at it.
Let's get down the mechanics of it here. This recipe is based on one from What's Cooking with Chef Amy that I made several tweaks to, but her base is solid. I really only wanted to change out Guinness for a South Carolina beer because I am a fan of drinking locally.  And it's supporting a small business (no, two, because I bought it at Craft and Draft!). So what I am posting below is only for your convenience to see the changes I made laid out easily.
Southern Tater Ale Macaroni and Cheese
Ingredients
1 lb. pasta, cooked and drained (elbows, shells, fusilli, wheels…)
8 oz. extra sharp cheese, shredded
6 oz. asiago cheese, shredded
8 oz. fontina cheese. shredded
1 cup Benford Brewing Souther Tater ale (one 22 ounce bottle)
3 tbsp. butter
3 tbsp. flour
2 cups whole or 2% milk
2 tsp. onion powder
1/2  tsp. dry mustard
¼ tsp. ground nutmeg
½ tsp. cayenne pepper
2 cups panko bread crumbs
Directions
Heat oven to 350 degrees, spray a 9×13 baking dish with non-stick spray.  You can also use individual ramekins.
Mix all cheese together in a large bowl, remove 3 cups and set aside for later.
In a medium size sauce pan over medium heat, melt butter, then add flour, whisk until smooth, it will get bubbly, keep whisking until just starting to turn light brown. While still whisking add ¾ cup of beer, keep whisking then add milk slowly.
Add onion powder, nutmeg, dried mustard and cayenne, season with salt and black pepper.
Bring to a boil, reduce heat and simmer for 3 minutes.
Remove from heat and add cheese one hand full at a time. Whisk in all the cheese until all had melted, add to cooked pasta and toss to coat.
Pour half of the pasta mixture in the pan, top with 2 cups of the reserved cheese, then top with rest of pasta.  Top with remaining cheese.
In a small bowl add panko bread crumbs and the rest of the beer toss quickly together and sprinkle on top of the pasta all over.
Bake 30 minutes uncovered or until panko crumbs are lightly browned and cheese is bubbly.
And also this used up the bread crumbs from my ingredient challenge!