The past two years I've brought king cakes to my offices, which in turn made people like me more and question my heritage. While I'm always welcoming of people liking me more, I just have to put it out there that I'm not from Louisiana, nor is anyone in my family. The king cake tradition is just a fun and unusual one that I like to indulge in because so few people around here have ever had one, let alone made one. It's even hard to find little plastic babies in the baking section of the store, hence why I've never actually baked one into a cake myself… which is also probably why I'm always the one bringing king cakes. Or, plan ahead and order some online. The baby baked in is how the buck gets passed!
This year Mardi Gras snuck up on me and with freezing rains creeping closer to Columbia, the thought of going to the store to procure the ingredients to make a king cake is less than appealing. Plus, king cakes are large and heavy so an alternative is sounding like a way better option. So what are some twists on the king cake to keep the good times rolling and the festivity level up while the weather has us down?
King Arthur Flour (probably no relation to the cake) scales down the large ring shaped cake into manageable and cute cupcakes.
King Corn
Cromer's in Columbia takes their crazy corn coloring antics to create Mardi Gras corn. (I think) You can also pick up packages of beads there to share with people… your call on how they coerce you into giving them a strand.
Anyonita Nibbles flattened her Mardi Gras celebration and started early, with a colorful breakfast! Of course, pancakes are traditional to this day, so really it's just layering traditions one on top of the other.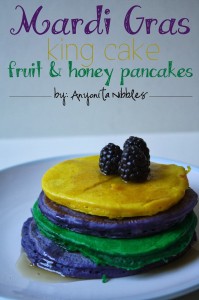 King Jello Shots
Maybe leave this one out of the office, but these traditional Mardi Gras colors layered jello shots are too cute! And if you make them tonight they will be perfect for post 5 p.m. celebrations on Tuesday. These look as simple as pouring a layer, chilling, adding the second layer, chilling, and adding the third layer and chilling during the day. Oui!
We'll see what, if anything I do food-wise to celebrate this year but I definitely have plenty of green, yellow, and purple  sanding sugar from last year's three year expedition to find them all! Who is making an awesome dessert to usher in the Lenten season (so I can come have some of yours)?