Do you think you'd know very much if you didn't engage with your peers over mutual interests? I sure wouldn't, which is why I created the Columbia Food Bloggers, Writers & Eaters group last year so that I could amass my fellow foodies and we could learn from one another- about food, writing, blogging, and anything else! So when fellow member Tiffany posted about the Bitten Word's Cover to Cover Challenge 2013, a lot of us jumped at the chance for a challenge! It involves a group cooking all of the recipes in the whole magazine. I believe the breakdown ended up with seven people each cooking the same recipe, so there's quite a large group throughout the country/world involved!
My assigned dish is Orecchiette with Squash, Chiles, and Hazelnuts. After the Boston trip I got cooking the next day after a trip to Earth Fare to try and obtain the unusual pasta shape. I know I'd seen it there before but it was nowhere to be found so I settled for Conchigle, which looks like this:
It would have to do because I didn't feel like going anywhere else for the magical shape. Farafalle would have been another perfectly acceptable substitution though. I made a few more small tweaks to the recipe including using more pasta (16. oz instead of 12 oz. because I wasn't going to set aside that little amount) more butternut squash, butter, and Parmesan cheese to make up for the extra noodles.
Next time I'd use more red pepper flakes because it wasn't chile-y enough (that or I need to replace mine for newer, more flavorful flakes). One thing I did wrong was forgetting to save some pasta water to add back into the dish. I NEVER remember to do this. Anyone else have that problem? Adding regular water in solved the issue, but pasta water adds a thickening effect, making the sauce more, well, saucier.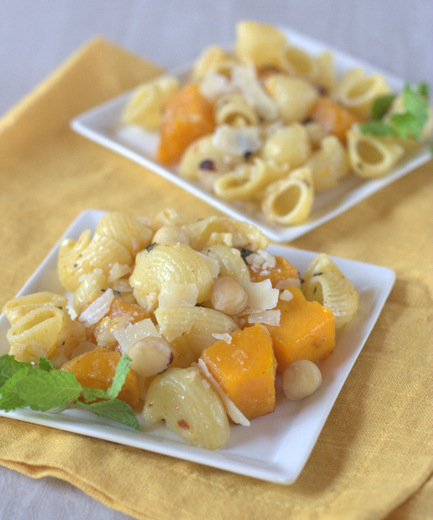 Mmm, dinna time.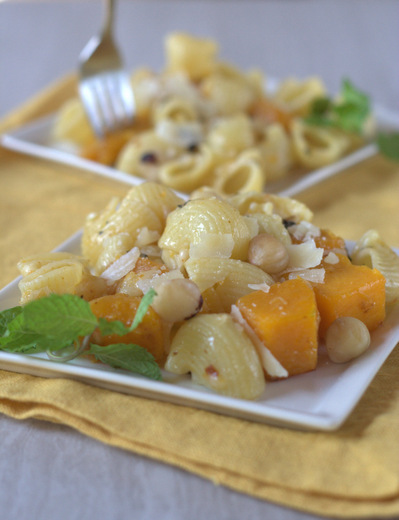 It makes quite a large portion, especially if you use more of the ingredients than originally called for. It tastes best fresh, but reheats decently. It's been my lunch at work for the past two days, with another whole serving at least still to go! I definitely recommend giving this pasta a try, no matter what shape you have on hand! And always, always add more cheese.