Earlier this year when hanging out with my friends I said, "Hey Kara, if we went to Boston could we stay with your parents?" Fast forward through the summer and we did just that over an extended Labor Day weekend. That's been the only way I've been able to afford to travel for the past few years, is to stay with people who live in various cities. That's how I saw Washington DC, Portland, and Asheville.
On Thursday we took off after work to drive to the Charlotte airport and I perhaps shouldn't be admitting it but we got there in record time. I mean RECORD. Enough to enjoy a nice, leisurely dinner at the Chili's in the airport because we really know how to live it up. The flight up was uneventful, and we went to sleep pretty immediately after we got there.
Friday morning we woke up and drove to Sam Adam's for a FREE brewery tour! They are located in the Jamaica Plains neighborhood, which is very nice and quiet. I didn't feel uneasy at all walking around there at the end of the evening. But back to the tour- it was about an hour long, informative, and Massachusetts is able to serve 21 oz. in their tasting rooms, so we got almost a beer and a half, and a free tasting glass! This Sam Adams was the freshest available, and tasted excellent. I really enjoyed tasting the Octoberfest and hearing about the history behind it.
Following that we took a trolley to Doyle's (insert arm pump here), which I believe is the oldest bar in Boston (maybe the country? I clearly didn't remember everything we learned on this trip) for a snack and to get a free Sam Adams glass with the purchase of a draft SA beer.The Irish nachos there were outstanding, and are something I look forward to trying to recreate here at home with the help of a mandolin.
Photo via Kara
From there we went on a harbor tour, then a bus tour which was nice to see Boston by land and sea in the same afternoon.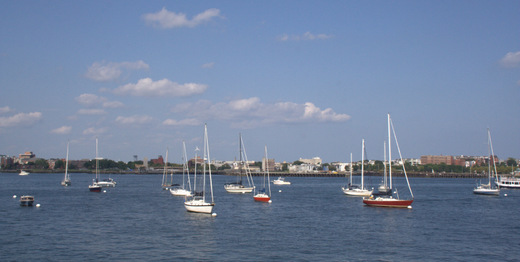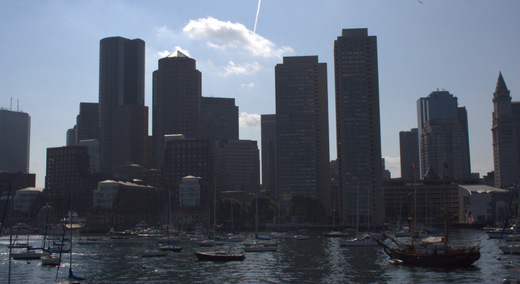 After all of that, we went for a very long walk down Newbury Street to Tapeo to meet up with a few friends and siblings in the Boston area that girls in the group have. Tapeo was great, though pretty expensive. I decided I didn't care and ordered to my heart's content. The table split a few pitchers of the cava sangria, a white wine sangria with pineapple and mango. It was a fascinating thing- it tasted like bubbly mango juice but the bouquet was very much of pineapple. I drank it easily, one because the flavor was great and two, because it was so refreshing after the trudge in. It was funny though, the waiter refused to let us pour our own sangrias and came running when he saw me attempt it after waiting for his return.
As far as the food, I had… vegetable fritters, baked goat cheese in an amazing tomato sauce, and an asparagus-lemon pasta. If you ever go there, save the table bread to sop up the juices from whatever you order. I went to town on it with the leftover tomato sauce from the baked goat cheese dish. So perhaps I was just hungry and ready but I really enjoyed our experience there. We were in for a leisurely dinner and got just that. Everyone left pleasantly full. Unfortunately it was too dim in Tapeo for photos, except this one (and I was ravenous) so you'll have to imagine it or Google image search it.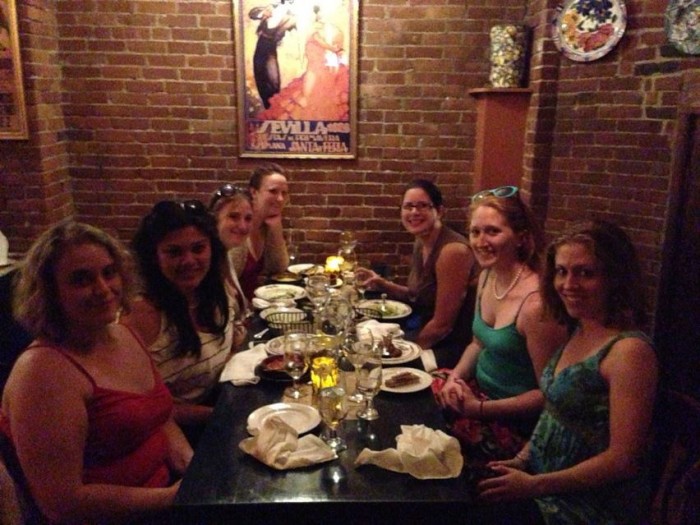 Photo via Kara via the waiter who took it
We got onto the green line RIGHT before the Sox game let out, and I was super excited to be able to even just see Fenway. We hopped on the T in the top of the ninth and I believe this is the point at which I was holding on to just a hand strap and let me tell you, the green line is ROUGH. I widened my stance and hurled my body to the left to grab onto a pole with both hands to get a better balance. What I didn't count on was this guy thinking I was coming into his personal space. I totally had it under control though. I think. So let that be your lesson- two hands on a solid pole on the green line. Or… just sit down, like my friends made me do.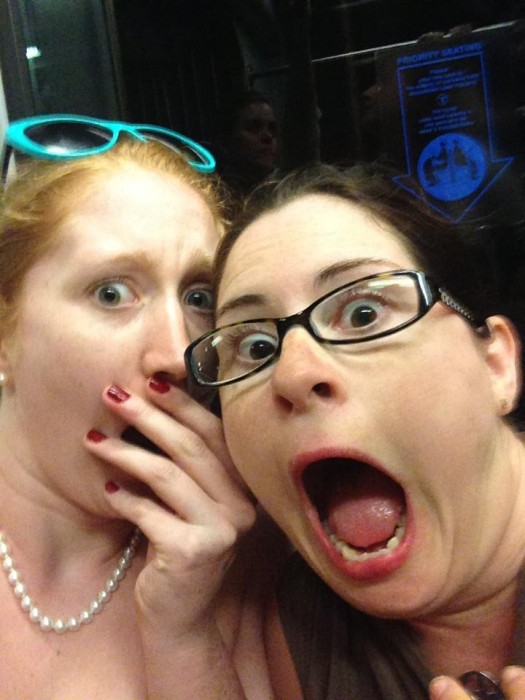 Photo via Kara
In the upcoming days I'll recap the next days of the trip! If you want to see more photos, I documented most of the trip via Instagram, so follow my account for lots more photos and captions. Anyone been to Boston?