Thunderstorms in the northeast are just as amazing to sleep to as thunderstorms in the South. Saturday morning I stayed tucked in bed until way, way later than anticipated and was worried that everyone was ready without me to embark on our next adventure. Luckily the gently rolling thunder and easy falling rain on the roof kept everyone snoozing and we decided to just roll with it and go when we felt like it, since we had no scheduled things until 8 p.m.
The Science Museum was the first stop of the day, and I'll admit I wasn't really looking forward to it. We had just been to a lot of museums in DC earlier in the year, and it covered a lot of the same things. We did see an IMAX movie about fish, which was pretty good, though 3 of the 5 of us totally conked out during it from being leaned back in comfy chairs in the dark. We did have a lot of fun taking hilarious photos, so it wasn't a total snooze.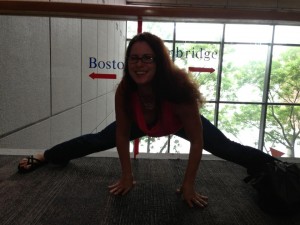 Photo via Kara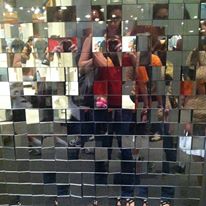 We had fun at the mirror wall…
…and with the infrared camera.
Following the science museum we took the T into Chinatown for dinner at my fervent request. I wanted to eat at an authentic Chinese place, so I told everyone to scope the place out for Chinese people eating there. We went to East Ocean City, a place I had chosen kind of randomly after Urbanspooning it and mapping it out for us to walk to.
We went in at the insanely early hour of 5 p.m. and walked past tanks and tanks of fresh seafood at the entrance. Fresh, live seafood. We sat down amongst servers rolling dinnerware for the night and made our orders.
It was kind of weird having so many servers standing around and near our table, talking and rolling, when there was plenty of the rest of the restaurant that they could have sat us. I ordered the Budda's Delight fried noodles, because I wanted vegetables and to try something I hadn't seen available.
And because there were so many of the servers hovering near our table I was insistent on using only my chopsticks to eat. It was not easy, with the entanglement of noodles, but man was it good. I really… I am at a loss for a description right now for it beyond that. But I will say, there were a lot of Chinese people eating there by the time we left.
After Chinatown we hopped the T again to ride to the Boston Burial Ground on Boyleston Street for our GHOST TOOOOOUR. I was expecting to be a little creeped out, even though I don't believe in ghosts. It was mostly a historical type tour, with no gimmicks or dorky haunted house type effects. We started at the Burial Ground and wound our way through Beacon Hill to end at the Parker Omni House, a verrry fancy hotel, actually one of the most expensive in Boston. It was run by Haunted Boston, and I totally recommend it for anyone who will be in town.
Once again, we hopped on the T and made our way back to retrieve the cah from the Science Museum parking lot and headed back to the house to enjoy cupcakes from Babycakes that an aunt kindly brought over to us.
If you'd like to see more Instagram photos from the trip, follow my account to check them all out! Missed the first part of my Boston recap? Check it out here.