Sometimes I make a list of things that I want or need to do and then never get around to doing it. Just making the list was enough. And that's the case too with this next excellent thing I'm about to show you.
Last February I was a bridesmaid for Emily, one of my best friends since 8th grade. We had a bridal shower/bachelorette night for her that was part presents and eating, then part shenanigans but something that stuck with me from the first part of the night were these caesar salad bites that another one of the bridesmaids made. They are a simple twist on the traditional cesar salad that I'd never seen before. And bonus points, I was able to get everything I needed from Trader Joe's, although they can be obtained from any store. I didn't include amounts below because this recipe is so versatile and can be put together to your own taste. And after a little digging through Facebook I found a photo of the food table with the original of these on it! As a group of ladies who were (and are) either married, engaged, or with someone, we didn't feel too much need to impress boys so we had quite a spread going on.
So now, your very own bites!
Caesar Salad Bites
Ingredients
Hearts of romaine lettuce, separated
Grated Parmesan cheese
croutons (TJ's garlic and cheese croutons are amazing!)
Caesar salad dressing
cucumber, diced into small squares
tomato, diced into small squares (optional)
Directions
Separate the leaves out and set aside the number of leaves you would like to make on a plate.
Sprinkle grated Parmesan cheese down the middle of each leaf, as much or little as you prefer.
Evenly distribute croutons , cucumbers, and tomatoes down the middle of each leaf.
Lightly drizzle caesar dressing over the other ingredients on the leaf in a zigzag, as much or little as you prefer.
Pick up the leaf, insert into your mouth, and enjoy!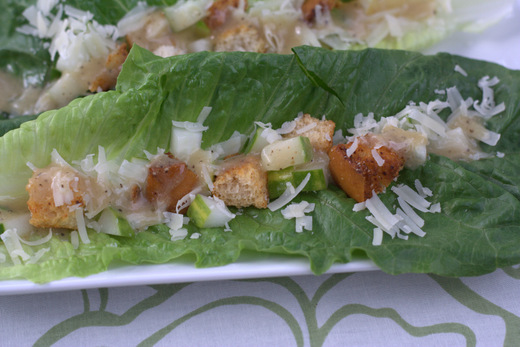 So now I'm going to watch old episodes of Friends and procrastinate on something else, I'll tell you what it is later.