I first saw the word "squaco" on a blog at least a year or two ago, if not longer and fell in love with the absurdity of the meshing of the two words. Squash filled tacos = squacos. At the height of squash season who hasn't resorted to more unusual methods to getting their squash eaten without making yet another casserole? Last year I even attempted zucchini ice cream. Spoiler alert- it sucked.
When I spoke of squacos this year, Patrick turned his nose up at the mere idea of them until he smelled the delicate vegetable sauteing with onions, the taco seasoning perfuming the entire house with a spicy aroma. Next thing I knew, someone was so sad that I only made squacos for one. Now they are in the rotation nearly weekly, and if I plan to make them there better be enough for both of us.
The only thing  we come to blows over taco-wise is the age old question of "Hard or soft shells?"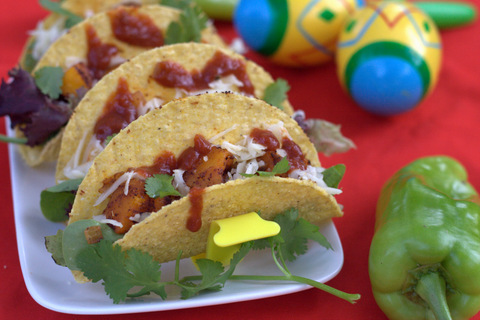 As you can tell, I like them hard. The crunch of the shell in contrast to the fillings makes the experience whole for me. I made two different versions using squashes that came in last week's Pinckney's Produce CSA box- butternut and eight ball squashes.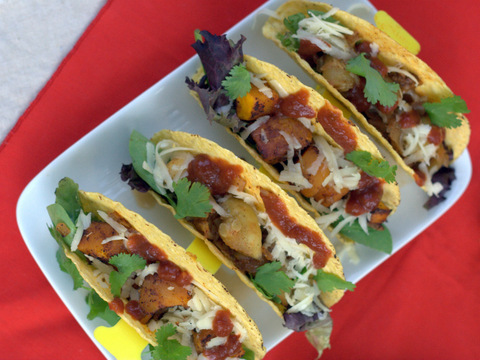 Squacos
Ingredients
2 cups of any combination of summer squash, zucchini, yellow, or cue/one/eight ball (and/or you can also use cubes of roasted butternut squash), cut into approximately 1 inch cubes
1/2 a medium onion, diced
1 banana pepper, diced (optional)
1 teaspoon coconut or olive oil
1-2 teaspoons taco seasoning (make your own, don't use that chemical laden junk)
Directions
Heat the oil over medium high heat. Once warm, saute the onion and banana pepper if using for 1 minute, stirring frequently.
Turn the heat down to medium and add in the squash. Saute for another minute or two, stirring frequently.
Add 1 teaspoon of taco seasoning at a time, using the scent of the seasoning as a guide. Stir well and continue sauteing for another 3 minutes, still stirring frequently.
Remove from heat and assemble into tacos as you would your usual beans or meat.
I like my tacos to be fairly simple- the seasoned filling, lettuce, cheese, taco sauce, fresh cilantro, and a dab of sour cream. But you can fill them how you like, and you can even use the soft shells if you must.