Last week's CSA box yielded some vegetables that I don't normally associate with the word "like," but something inspired me to make a turnip and onion soup. I was thinking, "Hey these are starchy like potatoes, and potato and leek soup is awesome."
So I pulled out five purple and white orbs, and two green onions from the crisper and started dicing the onions and set them in the pot to sautee. While peeling the turnips I noticed that the flesh was a brighter white on some and  the others were more beige. I kept on because I assumed some were just older, from the previous week's box, and got the rest of the soup cooking.
After posting about it on Facebook, my friend Katie who is the membership coordinator for Pinckney's Produce asked for a recipe to use rutabagas too, and I got to thinking about the different colors of the vegetables. I didn't realize that there were even rutabagas in the CSA boxes, because the ones I am accustomed to seeing in grocery stores are freaking enormous, whereas I didn't have anything that large in my box. I Googled and sure enough, I had actually made turnip and rutabaga soup. And here I thought I'd never even HAD a rutabaga before and here it was, making the soup even more flavorful than it would have been if I had just used turnips!
The best part of this soup is how creamy it is, without the use of ANY cream at all. If you leave out the cheese, it is completely vegan, but frankly, the cheese is too good. I used a Manchego cheese since we are tres fancy seeming now thanks to Trader Joe's. Seriously, we don't even have cheddar right now because it seems so passe when there are bries, goudas, Jarlsbergs, and Roqueforts available at price points previously unheard of around here. Anyways, back on the soup, not the cheese.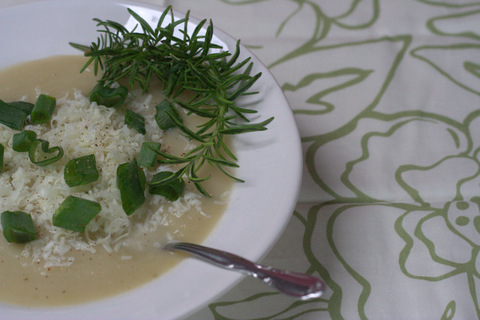 Turnip and Rutabaga Soup
Ingredients
1 tablespoon butter (or coconut oil)
1 garlic clove, minced
2 green onions, diced
2-3 turnips, peeled and cubed
2-3 small rutabagas or one larger rutabaga, peels and cubed
3 cups water
2 Not Chik bouillon cubes or vegetable/chicken bouillon flavoring of choice
1 shake of dried thyme
salt and pepper to taste
optional cheese for garnish, try a harder cheese like Parmesan, Pecorino, or Manchego
Directions
Melt the butter or coconut oil over medium heat. Once melted, add the garlic and onions and sautee for five minutes or until soft.
Add the cubed turnips and rutabagas and sautee for an additional minute.
Add the 3 cups of water, the bouillon cubes, thyme, and salt and bring to a boil.
After the mixture comes to a boil, turn to medium low heat and simmer for 20 minutes, stirring occasionally.
Once the root vegetables are very soft, remove from heat and use an immersion blender to puree thoroughly, or carefully transfer the soup in to a blender and puree in batches.
Serve in bowls, garnished with grated cheese of your choice (optional), and salt and pepper to taste.
This tastes really great re-heated, and in these photos the soup is actually cold. I made it in the morning and waited for the sun to come out more before photographing it. Once the photos were taken, I took everything inside and heated it up and ate it! This is a great way to use a bunch of those root vegetables you may also get in your CSA and feel let down by, but rutabagas and turnips are packed with vitamin C and dietary fiber which will leave you feeling fuller longer than if you had boring old been-there-done-that potato soup.