There's nothing better than happiness, and its even better when your happiness also benefits others. That's the premise behind Local Happiness, a company started by Ken Carey that replaces the standard PTA fundraiser fare of wrapping paper and tins of stale popcorn with something you'd actually want to purchase. Local Happiness has a whole catalog full of products from snacks to soaps and sauces with items made exclusively in South Carolina. That way the profits keep benefiting our communities, instead of benefiting some corporation in who-knows-where. Local Happiness recently gave me a box of goodies so I could see what they were all about and in turn, I am making a few recipes with the ingredients that they gave me.
Fittingly, the weather was warm and sticky all weekend, which was perfect for making ice cream. A recent convert to the chai flavorings, I don't think that it should be relegated to the winters months, and decided to bring its aromatic flavors to light in a custardy ice cream.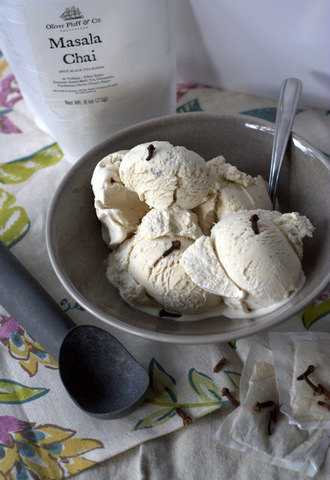 Masala Chai Ice Cream
Ingredients
1 cup of milk
2 cups whipping cream, divided
3/4 cup sugar
1 light shake of salt
2 egg yolks stirred together, in a bowl
a large bowl of water and ice, for an ice bath
Directions
Set up an ice bath by filling a large mixing bowl with ice, and water, then placing a smaller bowl that can adequately still hold the contents of the saucepan within the ice and water. Pour one cup of cream in the smaller bowl to chill. Set aside.
Pour the milk and one cup of cream into a saucepan. Add the tea bags and heat the mixture over medium high heat but do not let it boil. Lower the heat and simmer for ten more minutes, stirring frequently. Let's put it this way, don't even walk away. Stir it enough that a milk skin doesn't form across the top. Press on the teabags frequently to release the flavors.
Add the sugar and keep stirring til it is dissolved.
Once the sugar is dissolved, remove the pan from the heat. Bring the eggs closer to the milk sugar mixture and take one small spoonful and drip it into the yolks, CONSTANTLY STIRRING. This is called tempering the eggs, which means bringing the temperature of the eggs up to the temperature of the hot mixture without it cooking the eggs. Keep adding one small spoonful of the hot milk sugar mix into the eggs at a time, stirring constantly. If the eggs start to get chunky and scrambled, throw them out and start again. Once the eggs are very warm, slowly add them into the milk sugar mixture, again, stirring constantly. If any small egg chunks appear here, just discard them.
Put the pan back on low heat and stir the mixture constantly until the mixture is thick enough to coat the back of the spoon without dripping off. If it is still runny, keep on stirring. This should not take more than 10 minutes. Do not walk away from the stove. Use your phone to play on Twitter or something while stirring with the other hand.
Once it's not running off the spoon consistency, remove from heat and run it over to the ice bath. Pour it into the small bowl with the chilled cream and mix the two together.
Put the mixture in the fridge. You can put the whole ice bath set up in there, or not. It's up to you. Let it chill for a few hours at least, or up to overnight.
Once it's chilled, throw that mixture in an ice cream maker and let it do it's thing until it becomes ice cream consistency.
Serve immediately or freeze it.
If you are still warm and want more ice cream recipes, check out my recipe page. And if you're interested in bringing Local Happiness to your school, contact Ken for more information!
 Disclosure: Localhappiness.net provided me with this sauce and other goodies. All opinions are mine.