I never was any good at math or logic type problems in school, which led me to pursue a degree in journalism, which required ONLY! ONE! STATISTICS CLASS! Which means that the title of this post is probably all sorts of wrong and illogical and someone might want to sit down and teach me why and how it's wrong (jk, please don't learn me). But the point is that some things go together like rama lama lama ka dinga da ding a dong, and those things are honey and strawberries.
These particular honey are strawberries have a special partnership beyond tasting amazing because they bees who make the honey also pollinate the flowers that create the strawberries. Bee Trail Farm in Lexington has hives places at Cottle Farms, which creates a perfect balance for everyone. The bees get strawberry flower pollen and can use it to make honey and keep the queen happy. The beekeeper gets honey to sell, and the strawberry farmer gets better pollination in their crops, which produces more berries for them to sell. And lucky folks like us can then buy both the honey and the strawberries and create delectable treats from them.
I love nothing more in the spring and summer than to whirring together fruit and sugar and pouring it into an ice pop mold to make easy treats to cool me down and give me my daily servings of fruit.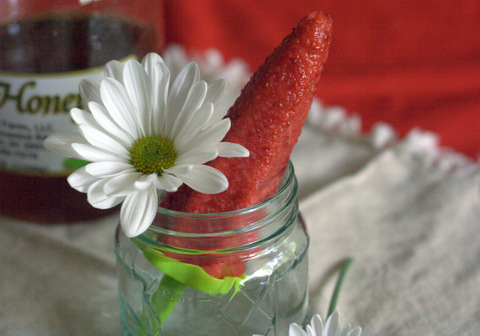 Strawberry Honey Ice Pops
Makes at least 4 (depending on the size of your pop molds)
Ingredients
2 cups of hulled strawberries
3 tablespoons of lemon juice
1/2 cup of local honey
Ice Pop Molds
Directions
Puree ALL THOSE INGREDIENTS together.
Pour into the molds according to molder directions.
Freeze for a few hours
Run water over the lower half of the mold for a few seconds to loosen.
If you're interested in learning more about Bee Trail Farms and beekeeping, I recently wrote a story on them for the April 24 issue of the Free Times. It was one of the most fun interviews I've done to date! And if you're in the Columbia area, don't miss out on your chance to get some Cottle Farm strawberries, either from their roadside stands or by picking them yourself at their farm out off of Garner's Ferry Road. Great people, great food- it's what Columbia is really becoming known for! Bee-sides, what else goes better with good food than good people to share it with? Even if those people are terrible at math jokes for post titles.