So, it's been a week and a few days since the Sustainable Chefs Showcase as part of the entire Indie Grits week of phenomenal arts n' fun and I can finally come out from my deadline haze and tell you about it. I roped two friends into coming with me for the tasting extravaganza with some of Columbia's most exciting folks.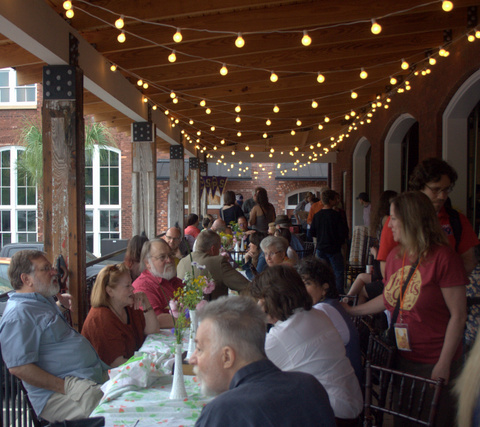 Many restaurants whom you know and love were in attendance, like Terra, Motor Supply, and Saluda's. Then there were some relatively newer places like the Oak Table, and Whole Foods Market. And there was one that made everyone go "Huh?" and that was Jake's. Yes, the bar in Five Points that's tucked behind the College Mart came through with an appetizer that I didn't taste because it was meat-based, but that I heard was "Actually not bad for a bar!"
One of the special parts of this event that I think really highlights how despite being a medium sized city, Columbia is down home enough that there was a special potluck level ticket that you could purchase. That's right, we potlucked it in a group of hundreds of people with no worries whatsoever that anyone would have done anything horrible to the food set out for the partygoers to sample. Isn't that amazing? There was a wide variety of kinds of dishes to choose from, all carefully labeled as vegan, vegetarian, gluten free, dairy free, and the like. I just can't see people putting faith in others like that in a bigger city like that. Like I said, the biggest variety was found on the potluck table, and folks really brought their culinary A-game in a casserole dish!
Also on the potluck table I also was taken by a strawberry dish. One ingenuious guest brought crostini with basil pesto… and chopped strawberries on top in place of the usual tomatoes! How creative and gorgeous are these?
Because this was truly a party, booze needed to be partaken of. I didn't even think about bringing cash to the event, so I fished a dollar out of my purse and asked a lady who was pouring wine, "How much wine can I get for a dollar?" She humored me and poured me a swig of white so I could cleanse my palate. Fortunately, Terra, Motor Supply and Baan Sawan used strawberries from Cottle Farms to make some truly spectacular drinks that were a highlight of the night and really made the berries shine.
My personal vegetarian focused highlights of the evening on the restaurant end were definitely the spring garden dessert from the Oak Table. I know I ate at least five of them and didn't even feel guilty because they were still making another table's worth of them as I was reluctantly heading out the door. I haven't made it to the Oak Table yet, but after tasting these adorable and imaginative little desserts that included microgreens it is really fueling my fire to get over there.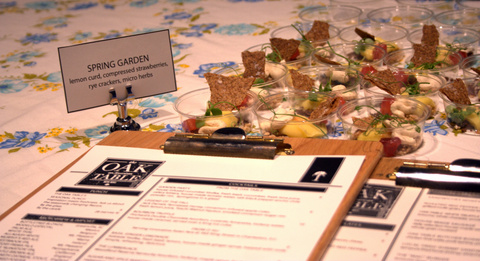 Another sample I went back for more and more and more of wast these goat cheese grit cakes made with Adluh grits, Lone Palmetto Farms goat cheese, and garnished with microgreens from City Roots. It was one of the most local things you could possibly have put in your mouth at this event.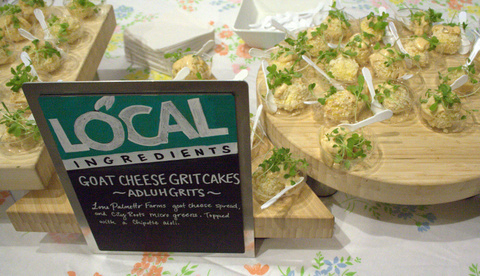 The best strawberry drink I had was well, all of them. No lie. The one from Terra was exceptional, even though I don't believe it has any alcohol in it. It was fizzy and refreshing. These are the sparkling wine "Jell-O" shots infused with lemongrass with a strawberry puree layer from Baan Sawan.
This butterbean hummus from Spotted Salamander Catering was a great twist on the original. Caramelized onions on top was a fun garnish that added a savory-sweetness to this dish.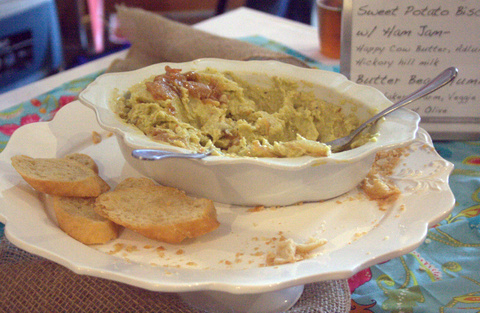 The decorations were wild, natural, and gorgeous. They really made the place extra special that evening. The whole event was really fun and believe me, it's on my calendar for next year!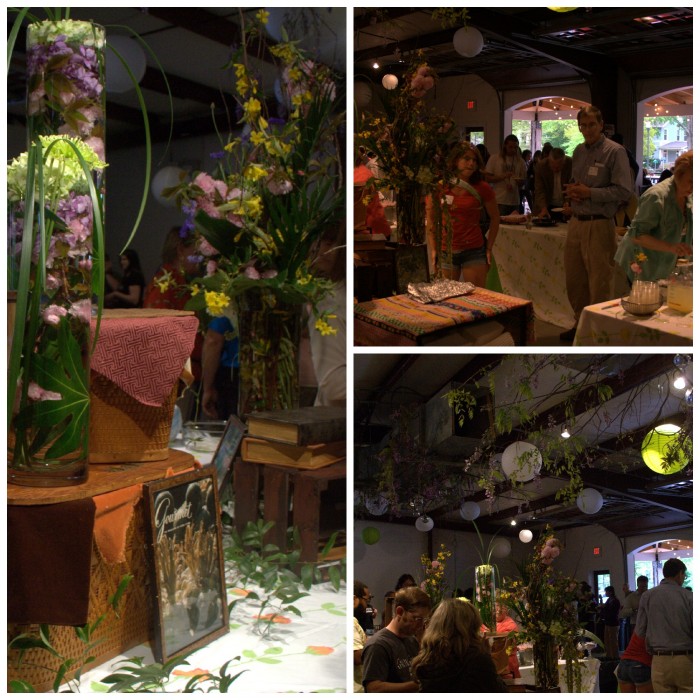 To see more pictures, check out my Facebook album and while you're there, why not go ahead and Like my page for lots of great updates on tasty things and other cool Columbia happenings?