We had a party Saturday night, and despite my trying to lower the ABV of our liquor cabinet, people brought even more booze (thanks generous friends!) and we have a surplus of boxed red wine! But not just your cheap-y Wal-mart stuff- nay, our friends are classy!– and we had a few boxes (and a bottle) of wine leftover.
I'm not much of a red wine drinker or connoisseur, so I hope that I won't be accused of wasting perfectly good wine because I made the wine edible instead of drinking most of it. Don't worry, I enjoyed a small glass of it too!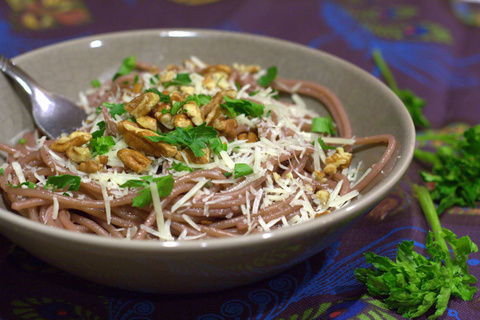 Red Wine Spaghetti with Walnuts & Parsley was my first choice of ways to chew my wine and I'll admit I was a bit skeptical of this recipe. The spaghetti was an unappetizing mauve color right after cooking, then I was certain I'd burn it somehow, but it turned out just incredible. The wine, the toastiness of the nuts, the fresh bite of the parsley, and the salty Parmesan cheese just melded together atop the noodles that had softened to a lavender hue to explode with a fresh, new-to-me kind of flavor. The wine started as a tart drink but infused the noodles with a succulent savory-sweetness that I scarfed it down, and subsequently took down the leftovers the next day for lunch in a similar fashion.
The only changes I made to the recipe were to make it a one pot meal by removing the spaghetti and a 1/4 cup of cooking liquid to a serving dish and re-using the same pot to sautee the garlic and pepper in before adding the noodles and liquid back. Sorry Julia Child, I don't believe in using dirtying up everything I own in the name of a good meal if I don't have to!
Next on my list is making this red wine cake, except in cupcake form! Hope my coworkers are ready for this, hopefully later this week!! And for you meat eaters, this beef stew in red wine sauce looks amazing. I am thinking about attempting it with Gardein Beefless Tips or maybe tempeh.