If you read my trip recap of DC, I promised to write a separate post about the food I ate while there. This trip wasn't really about the food, but we still managed to have some fantastic and unique culinary experiences.
After a less than stunning trip to our nation's home, we were really hungry and followed Rae to a place she loves, Kramerbooks and Afterwards Cafe. I was ready to eat just about anything at this point but was very pleasantly surprised with a beautifully creative brunch menu with unexpected offerings. Mini muffins and orange juice were served at the table upon sitting, which was much appreciated.
Once my eyes landed on the cafe veggie hash, I knew I wanted nothing else. It was like 116 State's tri color hashbrowns, but with an extra slam of veggies in the form of turnip, parsnip, rutabaga, butternut squash
asparagus, carrot, red pepper, onion all roasted up real nice that I chose to have topped with my eggs sunnyside up. I think this breakfast is really what got me through the rest of the day until dinner.
As the new DC/Silver Spring native, we went to places that Rae liked because she knew where she was going, which is how we ended up at Abol on Saturday night. Abol is an intimate Ethiopian place a few blocks from her apartment in Silver Spring (though it felt like a few miles in the cutting night air). Amongst the five of us we had one vegetarian, one non beef or pork eater, and a cautious eater, so to cost effectively satisfy us all we ordered a vegetarian platter and a meat platter.
To eat this, we had baskets of rolled up bread that was round and very thin like a crepe, but spongy like cake called injera. The way it was rolled up reminded me of a roll of paper towels, and we tore off small (maybe palm sized) pieces and used it to grab the filling of choice from the platter.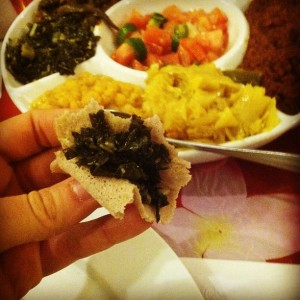 I really enjoyed the yellow lentils, the red bean paste stuff, pickled cabbage, and the green beans from the veggie platter. Believe it or not, I also ate plenty of the collards and even liked them. I didn't love them, but I ate my fair share! Another vegetable that I hate and ate was roasted beets. But only one roasted beet cube was consumed because even Ethiopians can't make them suitable for my palate.
When I used Instagram to post these photos to Facebook it sparked an instant conversation about how there's an Ethiopian place in Camden, and we've got quite a crew ready to crash it once we figure out what it's called. I'll be comparing it to this place, for sure.

Sunday night we wanted to hit the town a little bit, so we headed deep back into downtown to go to a DC institution- The Old Ebbitt Grill. It is the kind of place you're supposed to be able to find senators and other movers and shakers about town, but on a weekend night it was more frequented by a touristy crowd, much like ourselves. My friends dressed up a little for this, but I bummed right on in in my jeans and fleece, hair frizzy and wild from being in and out of a hat all day. Sorry for trashing the place up, guys. I wasn't expecting much from the menu but I immediately saw two mouth watering vegetarian options, one being a roasted vegetable platter, and one a lentil veggie burger with mango chutney and curry mayo, among other toppings. I was craving a nice protein hit, and the fries that came on the side of course, and was satisfied with my choice.
The burger was pretty good, nothing mind blowing, but the warmth from the curry, the lentils, and the fries on the side were exactly what I needed on another cold DC night. We even went crazy and ordered desserts. Usually I'm all about the chocolate, but this night a pear crumble sounded perfect. And it was. With a scoop of cold vanilla ice cream over spiced pears and a crumbly crust, I didn't regret my choice one bit. And despite the initial daunting feeling I got walking into such an upscale looking place, none of us were horrified with our final bills. Mine came to right around $30 including a cocktail, entree, and dessert. Not bad at all, especially for DC! Maybe you'll see someone important there, and if so I'm going to need to know who.