Mango is one of those annoying pieces of produce that I don't mind paying for the convenience of having it pre-cut. The best way to have pre-cut mango available year round is to buy it frozen. Mine came from Trader Joe's (via Mt. Pleasant), and I've seen it in Earth Fare and occasionally at Publix also.
I bought these mangoes with the idea to make this pudding right in the forefront of my mind. When we went to Punjabi Dhaba over the holiday break for lunch I had a few little bowls of it and remembered what a wonderfully fruity flavored treat this was, not to mention a cool relief after that spicy food!. You get the fruit flavors, creamy texture, and no worrying over it being too decadent.
This version of mango pudding is gelatin free, dairy free, and is refreshing on a warm January evening in South Carolina.
Mango Pudding
Ingredients
2 cups frozen mango chunks
1/3 cup sugar
1/2 cup water
1 cup light or regular coconut milk (the canned kind)
3 teaspoons cornstarch
1/2 teaspoon lime juice
coconut flakes, mango chunks, and mint leaves to garnish (optional)
Directions
Defrost the mango chunks in the microwave for one minute.
Meanwhile, bring the sugar and water to a low boil (this won't take long at all). Once the sugar is dissolved, remove from heat and whisk in the cornstarch until all lumps are gone.
Puree the mango, coconut milk and lime juice in a blender. Once thoroughly pureed, add in the sugar mixture and puree for another minute until well combined.
Refrigerate for at least two hours before serving.
Pour into a sherbert dish and garnish with coconut, mango chunks and mint leaves if you like! (The mint leaves are great if you use your spoon to crush the leaves against the glass to release the flavors into the pudding while you're eating it.)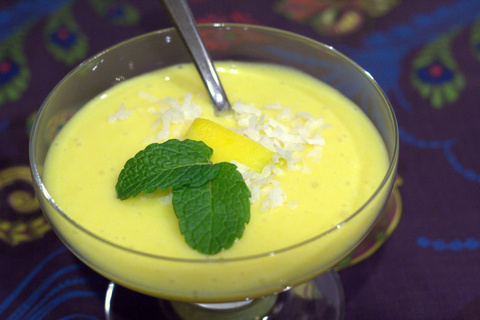 No doubt, this would also taste great after a few minutes whipping around in the ice cream maker too! But making ice cream would be a little ridiculous in January, right?