FRIDAY Addendum:
I knew I forgot something on Friday afternoon and that was dinner at Widmer Brothers Gasthaus! Widmer is one of the few craft beer breweries that I've tried lots of their stuff and was familiar with it before I even thought about going to Portland. Once I found out it was about four miles from Kellie's I was like THIS. WE ARE GOING HERE. We were about an hour too late to take a brewery tour but we had an incredibly velvety smooth beer cheese soup made from Drop Top Amber Ale and Oregon made Tillamook cheese from their factory on the coast that I wanted to tour (but didn't make it out to the coast). We also had a flight of six different beers: their Hefe which I'd had before, X Wheat, Oktoberfest, Drop Top, Brrr, and Drifter. Like pros, we arranged our beers from lightest to darkest (my list above may not reflect that, by the way) and enjoyed the atmosphere and buzz. THEN we went about the rest of our night…
SATURDAY
Saturday I woke up to an empty apartment except for Woody and pretty immediately put on my jacket and leashed up Woody for a quick drive up to the Whole Foods and the Starbucks on Fremont. I NEEDED coffee and breakfast to face the challenges that lay ahead of me: public transportation navigation, ALONE. Because it was raining a bit harder than the light mist that it had been the past two days, we came back to the apartment so I could map out my route and minimize getting lost. An hour later, I headed out to get on the bus at a stop a few blocks away on Broadway to head towards downtown. I got off fairly close to Kellie's work again and checked to see what time I needed to be back and then set off to find lunch. I walked east for some reason and decided to stop in and have lunch at a cute and empty little place called Gallo Nero.
It was still only 11 a.m. by this point so I got an item off the brunch menu, a vegetable risotto with roasted potatoes on the side and two poached eggs. Now this was excellent. It was plated so beautifully, and the flavors complemented one another so well. The risotto was very creamy, interspersed with bits of chopped asparagus, onions, fresh cherry tomatoes, and probably a few other veggies I can't recall anymore, and topped with thinly shaved Parmesan. The potatoes were roasted to a crisp on the outside, while being tender and delicately seasoned. As I am wont to do with my potatoes and eggs, I spooned the eggs on top of the potatoes and broke the yolks so that the yellow sunshine poured all over the tubers and added a rich protein filled layer of complexity to the dish.
After I took a few moments to digest this I asked the server where I should go to walk and look at shops and she suggested 23rd Street and gave me directions to the nearest streetcar. With my bus pass I was able to jump on the streetcar for no additional cost and really enjoyed this form of public transportation. It was very quiet, clean, and smooth. It stopped about every other block or so it seemed, and really covered a lot of ground. I got off on 23rd and started walking. At first it seemed underwhelming and I was like, "Why did they tell me to come here??" But then more shops started to appear. Some of these hip clothes are expensive, man! There were a lot of stores that were Anthropologie-like, but they were independent shops. I ended up not buying anything but I wanted to real hard.
Once again in an effort to not get lost and possibly walk farther to find public transportation I walked from 23rd to 12th street in a light, chilly mist with my scarf over my head again, babuska style. Then it was time for SOCCER! I will admit I was not excited about going to a soccer game in the rain when it was already chilly. We  walked to Jeld-Wen stadium, and met up with Kellie's friend who had the tickets.
He gave us Timbers scarves, and a sheet of chants, two things that are very important during Timbers games, and I didn't yet know HOW important at the time, but once I experienced it, I was just as into it, minus the chanting. And some most of the chants are super not family friendly, but they were hilarious anyways. There were a lot of signs and flags too, including this one that I got a backwards shot of for Patrick:
We got plenty of Oregon brewed beers, the names I have forgotten already (ummm), and at some point I disappeared to take a break from the rain and went to the inner part of the stadium and ended up with this Timbers hat that really helped improve my spirits for the rest of the game.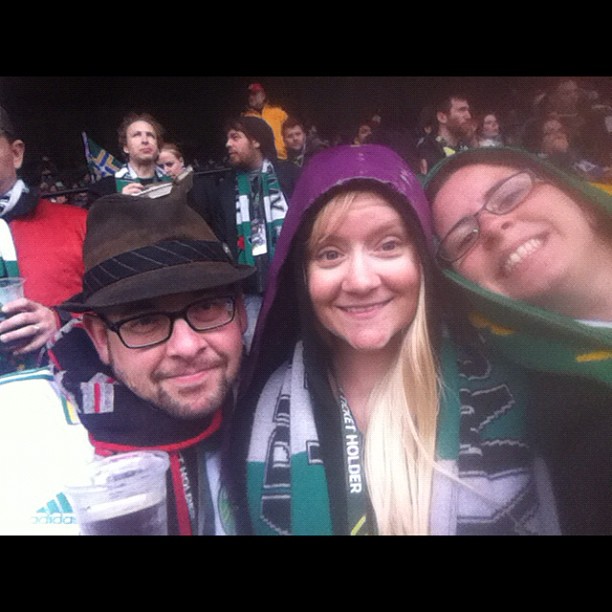 The game ended in a tie (a tie! how do they even know who won? wait, they DON'T) and we walked and used public transportation to get back home. Then! Then we picked out outfits to wear to a Halloween party and headed over to Kelly's house to get extra props like wigs and stuff. I found a great costume and decided to go as an underemployed lawyer Kellie for Halloween!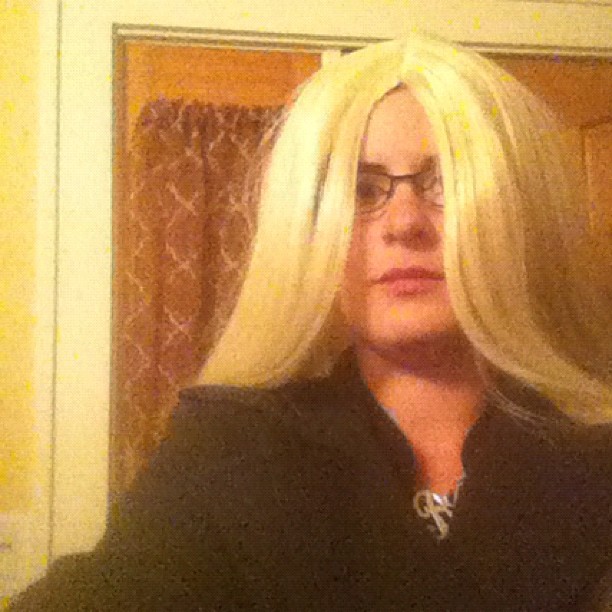 I even introduced myself to the people hosting the party we went to as Kellie. So they thought that three girls named Kelly/ie came over all at once. I don't think any of them ended up realizing that I had a real name at all, I was terribly amused until I got incredibly tired. We stayed out until after midnight, which felt like 3 a.m. to me. I reaallllly felt it, but once we got home I was asleep pretty immediately. Which leads us into Sunday….