There was a hint about a giveaway coming up soon in this last post and I'm pretty excited about this one because it's from one of my favorite natural foods companies, Edward & Sons! They contacted me recently about trying out a newer product of theirs and wanted to share it with my readers too.
Curry bouillon! If you've been reading a while, you may remember that I hosted a chick'n and beef flavored bouillon cube giveaway earlier this year and this one is just as delicious, with a hint of oriental mystery.
Have you ever cooked with curry? It's a flavor that I had never really gotten into only due to lack of knowledge or experience and this was a great chance to see what it was really all about. For some reason I kept thinking that the yellow curry would be really delicious as a ramen base and set to work on this one evening shortly after my first CSA box with the equally intriguing tatsoi. The yellow curry is mild in spiciness but high in flavor.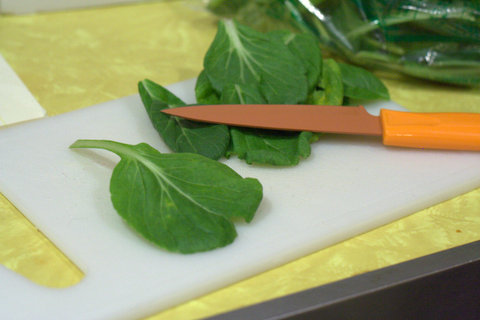 This soup evolved over two or three trial runs to become a glorified but just-as-easy-to-make-when-drunk AND healthier AND tastier version of ramen. I won't say it will prevent your hangover but it has prevented me or two for me recently. But it won't give you a worse one  if you eat before passing out following a night of raucous fun.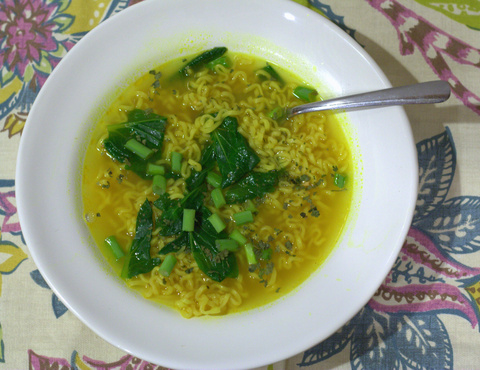 Yellow Curry Ramen with Greens
Serves one
Ingredients
1 package of ramen noodles, flavor packet tossed aside
1 cup water
2 Edwards & Sons yellow curry cubes
1 garlic clove, finely minced
Handful of tatsoi (or bok choy)
cilantro and chopped green onions to garnish
Directions
Bring 1 cup of water to a boil in a saucepan.
Once water is bubbling, add two unwrapped yellow curry cubes and the minced garlic to the water and stir.
Turn the heat down to medium high and add the noodles. Simmer for two minutes, using a spoon to break up the noodles.
Add the tatsoi and stir, cooking for one additional minute.
Remove from heat and add cilantro and green onions as desired.
Now that you've read the recipe and are thoroughly intrigued, how about that giveaway?
TASTY GIVEAWAY ALERT!
I am going to give away one box of red and two boxes of yellow Curry Cubes each from Edward & Sons to two winners.
PRIZE: Curry Cubes from Edward & Sons, one box red, two boxes yellow
TO ENTER: Comment on this post and tell me your favorite YELLOW food.
BONUS QUESTION: Tell me what you'd make with the curry cubes!

GIVEAWAY CLOSES: Sunday October 7 at 11:59 p.m., EST. Prizes must be claimed within four business days. 
NUMBER OF WINNERS: 2
PRIZE SHIPS: In the USA only because I don't know how to ship internationally. Sorry, overseas people.
DISCLAIMERS: One entry per e-mail address is permitted. The winners will be selected using random.org and announced on the morning of October 8. These prizes are brought to you by Edward & Sons who sent me these to me. Shipping costs come out of my pocket, because I like ya.
The winners are the only two commenters on this post! Please email me at april at theaprilblake dot comwith your contact information!