But let's make it brief because you'll want to stay busy stuffing delicious Greek food in your face during the next three days of the festival. If there's one thing to be learned, it's that the Holy Trinity Greek Orthodox Church congregation hosts a ton of talented cooks.
Ed note: I just realized that my photos of most of the food didn't transfer over and are on my other computer so here's what I have for now. Argh. Expect more photos this evening.
I met my friends there and we started off with traditional Greek alcohol, which they surprisingly do serve right there in the church parking lot. Opa! Kara got a Greek wine that tastes like Moscato, while I went for Alfa, a Greek lager that was pleasantly refreshing and with an unobtrusive taste that didn't get in the way of the flavors of the food.
Because I am ridiculous I'd been perusing their menu early in the day and already knew that I wanted the veggie plate, fries, and baklava, and hopped in line for the veggie plate while my friends went in search of their meals. The veggie plate almost looked disappointing from the sample they had sitting on the counter at their booth but once I started eating the value increased significantly. The veggie plate consisted of soft pita chips, hummus, three dolomades, two spinach spanakopitas, two cheese spanakopitas, a fried falafel, and a handful of olives (that I gave to Jennika) for $8. Worth it. I also polished off Kara's Greek fries, along with the remainder of my beer so we could go tour the sanctuary.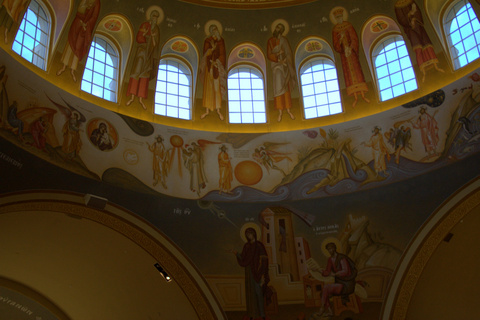 The sanctuary is absolutely beautiful and if I could go to church in a place like that I'd be there every Sunday!
The outside is just as impressive, especially against the cotton candy colored late summer sky that we were treated to last night.
Before we left baklava was obtained, though I got it in a new, unusual form- in a sundae! It was good and had the nutty, honeyed flavor of baklava but sadly the flaky phyllo pastry texture was missing. Luckily, there are plenty of delicious Greek places in town like Nick's House of Pizza in West Columbia that carry bakalava so we can have it year round. Their cannoli is pretty bangin' too, FYI!
There was a fascinating vendor right inside the Hellenic Center where the inside vendors and more seating was located. I am pretty sure that these candles- yes those are candles below- are from the Southern Baked Candle Company. Ironically I saw their van driving around the other day and was curious about what kind of candles they had. I took photos of the two that amused me the most, the beer pint candle, and the hot dog candle! They look awesome but I am not sure I'd want those smells wafting through my whole house. They are innovative though, I'll give them that!
Definitely take some time this weekend to check out the festival that some citizens of Columbia refer to as "better than Christmas!" as overheard there last night! There are far more foods available that I didn't even mention, so for your drooling pleasure, here's their menu so you too can plan out your festival eatings. OPA!