The first item on my fall bucket list is to use or preserve everything from my fall CSA share, and this lazy Sunday morning where the air is cool enough for open windows is the perfect time for it. From the first week's share is a really interesting leafy green called tatsoi that is similar to the dark green, leafy bok choy except that it has spoon shaped leaves. It'll be great to use in soups like pho or vegetable soup this winter. There weren't any directions specifically on how to freeze tatsoi so I am using this guide on freezing bok choy.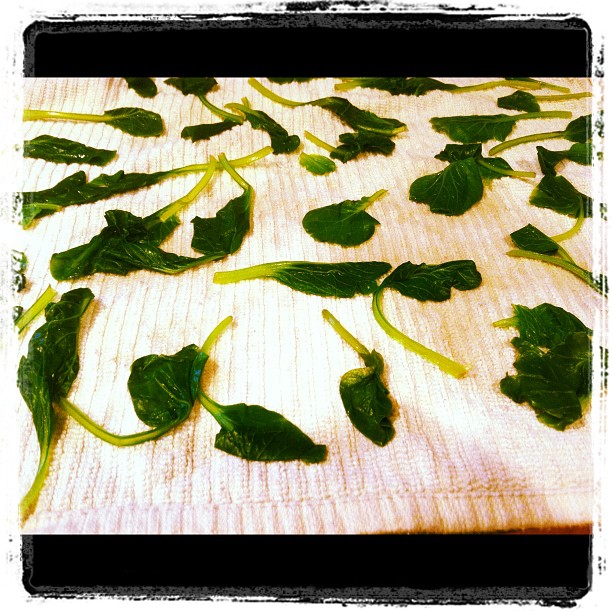 Freezer preparation for most vegetables boils down to blanching the vegetables, which entails dropping it in boiling water for three minutes, then immediately submerging it in ice cold water to immediately stop the cooking. This brings the vegetable to a par-cooked stated which helps it freeze correctly and keeps it from getting over or under cooked when it's used in a dish later on. Frozen vegetables (and leaves) should be used in cooked dishes only, as they don't spring back to their original firmness once thawed. Once the vegetables are heated then cooled, they need to lay out for a bit to dry to prevent freezer burn and the individual pieces freezing into a giant lump.
Another great website with a comprehensive guide to preserving so many kinds of vegetables and fruits is the Clemson Extension website. While extreme hatred is the usual for anything Clemson, their agricultural and research programs are the best. They have a list of how to preserve any kind of item in alphabetical order. Next up for the freezer is probably zucchini and summer squash that'll taste so good in squash and corn chowder when it's so so cold out and super expensive at the grocery store. But first I have to do some rearranging or eating because our freezer is jam packed (that's a preserving pun, ha… ha?)
Do you preserve? Any ideas, tips, or recipes?