If you're a freak like I am, you stalk grocery store shelves and restaurant menus constantly looking for new inspiration and flavor combinations. Over the summer this most amazing sounding confection threw itself out of the freezer at me when I lingered for just a moment too long in front of the fancy ice cream section of the frozen aisle at my local Bi-Lo.
(Photo source: onsecondscoop.com)
Naturally, I let it come home with me and showed it who's who by eating it all. That night. Yes suhhh. After coming across a Chocolate-Raspberry Ice Cream recipe in The Perfect Scoop
that tasted nearly identical to the Talenti, I was sold on my version, namely because mine yielded more than twice the amount of ice cream for the same cost. Then one night in a frenzy of having run out of (just plain red) raspberries I went for the next closest thing in the freezer- blackberries- which turned out to be a great turn of events.
Don't you love the descriptions on Publix brand items? I think the blackberries add a whole 'nother level of something special and unexpected to this ice cream, in addition to a beautiful ever-so-slightly rosy purple tinge to the rich milk chocolately darkness of this recipe that's so subtle the camera didn't capture it. They also do add the seediness that do come with eating blackberries, so if you're a seed hater you'll want to strain them out somehow, but all the ways I was going to suggest seem unnecessarily messy so maybe you just deal with the seeds. Call it texture.
And with that, I give you:
Blackberry Cocoa Chocolate Chip Ice Cream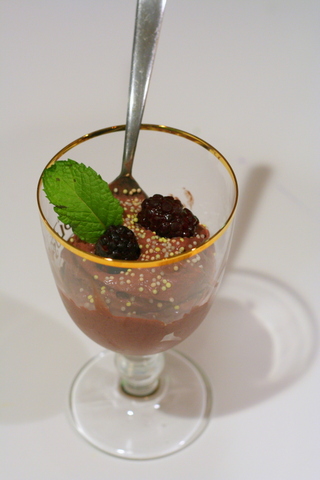 adapted from The Perfect Scoop
Ingredients
1 1/2 cups heavy whipping cream
5 tablespoons unsweetened cocoa powder
2/3 cups sugar
1 teaspoon vanilla extract
2 cups frozen blackberries
1/2 cup (or desired amount) shaved chocolate bits
Directions
Whisk together the cream, cocoa, and sugar in a saucepan. Heat it until it comes to a boil, whisking frequently.
Once it boils, remove from heat and add in vanilla and blackberries. Stir to mix.
Cover and let stand for 10 minutes.
Puree the mixture with an immersion (or regular) blender.
Chill the mixture in the freezer for approximately 20 minutes, then freeze in your ice cream maker according to manufacturer's directions.
Once the mixture has started to thicken into ice cream, add the shaved chocolate bits a spoonful at a time so that they incorporate into the mixture without clumping.
Enjoy as soon as it is desired consistency or let it ripen in the freezer for a few hours.
If you're interested in the oddly pale sprinkles, they are Edward & Son's all natural Sprinklez that I found at Earth Fare and wanted to try because as much as I love sprinkles, I don't love eating artificially flavored wax. They are tasteless like most sprinkles are but they just add a little extra festivity to ice cream!