Post number two of last week's Greenville trip is going to be all about the great outdoors and the great arts scene that's been carefully cultivated in close proximity to one another in the downtown area. These artists that rent out spaces at Art Crossing at RiverPlace through Greenville Open studios have the best view in the entire city!
This overlooks out to Falls Park at the Reedy, which I shall just show the pictures and not even try to describe.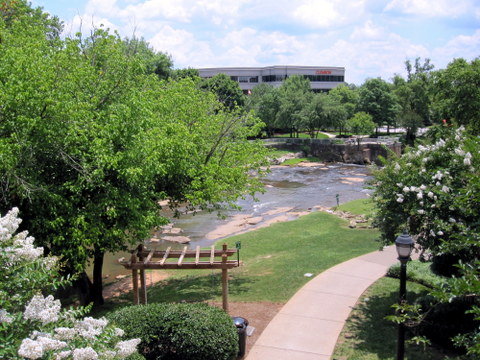 Okay, I will stop to inject that Liberty Bridge runs through the middle of the park, over the falls. The clean, simple lines of the bridge make it  integrate seamlessly with the rest of the park, which still being architecturally interesting.
From the middle of the bridge you get this beautiful view.
A couple had come along and put a love lock on the bridge. This was the only one I saw so I'm wondering if this couple is the trendsetters or if the parks and rec people regularly come and cut these off. The sentiment remains, however, and what prettier place is there than this to put a love lock?
From yesterday's post is this photo again, some sort of functional-ish? maybe, art before a smaller bridge that takes you from the park over to the art studios and a few restaurants. I like the abstractness, the lines and the colors against the organic coolness of the river.
As you can see, the sun came out by this point and I started to get a bit toasty. There was a Starbucks nearby and a gift card burning a hole in my pocket but very luckily I kept going straight across this bridge and came across OCHA tea bar and got a Thai iced tea. It was delicious, and OCHA was adorable. How can a bubble tea shop not be super cute though?!
After all of that excitement, my parking time limit was expiring, my energy was expiring, and I'd frankly done just about everything I could do (or possibly eat) on Main Street and walked back to find my car on one of the side streets so that I could head to my big-box store destinations (that we soon won't have to travel out of town for!), HomeGoods, Whole Foods and Trader Joe's!
I've got one more post in mind about Greenville, but that'll come next week probably. Are you convinced to take a trip up I 26 yet? Looking back at these photos makes me want to return again, very soon!
Any suggestions for places to go on the next Greenville trip? Ever heard anyone call it G-Vegas?