On Day 2 of my funemployment (time between jobs, not actual unemployment) I took off to Greenville, SC to explore the downtown that I'd never seen, and also to take #5 plastics to Whole Foods, AND to visit mecca Trader Joe's.
My first order of business was getting some food in my belly because coffee and a Larabar were only good until about noon, which is the time it was when I found a parking spot and a place to chow down. I LOVE the abundant sidewalk dining in Greenville, which I had heard a lot about and was glad to get to experience it! I ate at Cantinaflas Gourmet Mexican & Vegetarian Restaurant, the yellow building in the background. While I was rushing in to relieve myself I saw tons of awards on the wall and gave myself a mental pat on the back for choosing a delicious place to eat just based on the name of it alone. However, Urbanspoon doesn't seem to love it as much. Take it for what you will, I suppose.
I chose sidewalk dining and ended up with a dining partner, a cute little birdie! I fed him a tortilla chip that he came to peck at occasionally! Ballsy little sucka!
I had the veggie burrito and it was filling, fresh-tasting, and it made me perfectly content. The rice that came with it was an excellent complement, the salsa was spicy but not too much, and the service was quick and efficient on a Friday at lunch in the summer. I was in and out in under 30 minutes.
I meandered up North Main next (away from Falls Park) to hit some stores and the Dark Corner Distillery, which a former coworker that is vehemently against alcohol told me to try (??!).
So try I did! This is where they make the booze, just like in the old days except they aren't hiding the stills in a barn behind hay bales.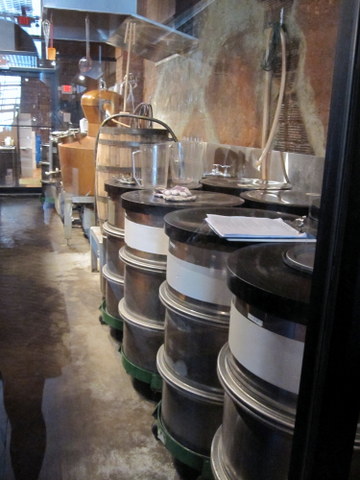 And this is where they store it before it goes into my belly, in the traditional barrels! I love how they've interwoven the tradition of moonshinin' with the modern laws, technology and safety precautions (aka this stuff won't make you go blind) that has come along with booze makin' over the years.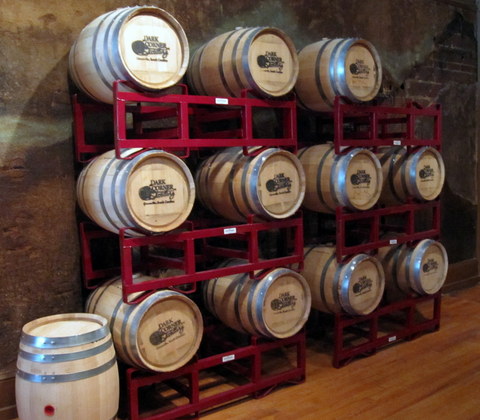 I tasted their Mountain Apple flavor and the Peach flavor. I preferred the apple to the peach because it was less acidic and I meant to go back and buy a bottle but I forgot to walk back to there and grab it! They were very nice and were telling me all about distilling laws around the state. I don't know if it's a secret or not but there are going to be distilleries opening up in other places around the state. In good places. Mm hmm. Yep. I hope it goes through.
I wandered back down Main Street, wandering in and out of shops, including the Chocolate Moose, sister store to Cupcake which is located in Columbia (and Charleston). I just so happened to have a coupon for a free birthday cupcake. But being so full from lunch still, I kept going although they did have a margarita cupcake which I totally would have torn up if I'd gotten it. Mmm. Maybe they'll make it at the Columbia Cupcake soon on the exact day I go! If only, right?
After all of that wandering it was starting to get a bit warmer, so the next order of business was to walk southbound on Main Street towards Falls Park at the Reedy, the most beautiful place in any downtown area I've ever seen! Seeing as how this post is long enough, I'll wrap it up with a teaser photo and come back with lots of photos of Greenville's greenery and art in the next day or so!