Yesterday was a breakthrough kind of day for me in the workout department.
I went back to the Awesome Abs + Rep Reebok class (<- not my gym) at my gym for the first time since autumn. I hadn't kept up with lifting at all, and I'm the kind of person that needs someone else keeping count while I lift because my mind wanders, plus it's nice to have someone else plan the workout too!
Not having done any lifting and minimal core work in so long, the effects were felt immediately. During the class it was obvious in having to scale back down in dumbbell size, having to shun the 12 and 10 lbs. that I was so excited to have worked up to before having to take a sabbatical from extracurricular activities. Using the 3 and 5 lbs. only was humbling and honestly, hard. By the third set of reps they might as well have been 30 or 50 lb. weights.
Once the class was over I was damp with sweat, but feeling accomplished for having stuck it out and keeping up with the class 95% of the time (lunges were my only slight downfall!). Descending the stairs down to the parking lot gave me that Jello-legged feeling and it felt like my knees were about to buckle right there, sending me plunging facefirst onto the concrete, but they held up, stronger because of the hour and a half I just put in.
After getting home and having a little dinner (not on the weekly meal plan but it will be next week for sure!) I collapsed in Patrick's man cave to spend time in each other's vicinity and stole his laptop to read some Cracked.com while he read other Internet things. Since I was cracking up (ha…) at this article/graphic, my abs were absolutely seizing up and it felt good, a little painful, but overall still good. It's nice to really be able to still feel your muscles after the fact!
Overall, it will be worth it, and I remember my very first Rep Reebok class I felt very similarly to how I did last night, then I also still remember the amazing feeling of moving up in weights, feeling very powerful in my body, and the best part… seeing more defined muscles starting to pop up! And of course the best reason of all is that having more toned muscle mass in your body makes it a more efficient calorie and fat burning machine!
It feels so good to be back at the weights, and I think now I've finally nailed down a flexible and varied enough workout routine  that includes all three types of workouts that I enjoy and will get me through each week and hopefully closer to my goals, which include:
Running a < 30 minute 5k
Losing at least one cup size if not two
Getting my arm and back muscles to be more defined looking once more!
Achievable, flexible, and simply defined goals are the key to success for me! A few months ago I was telling my gym yoga instructor that I was having a hard time striking a balance between yoga, running, and lifting. It seemed like this was the situation until some sort of realization hit me yesterday and I formulated a plan.
New workout schedule:
Mondays– Rep Reebok after work (if interference, do a similar lift + light cardio mix for an hour on Sunday or Tuesday)
Fridays– All Levels Yoga at Sun Spirit Yoga & Wellness after work (if interference, do Saturday class)
Tuesday-Thursday– pick one day to do 45 minutes – one hour of cardio
Saturday-Sunday– do 30-45 minutes of cardio if possible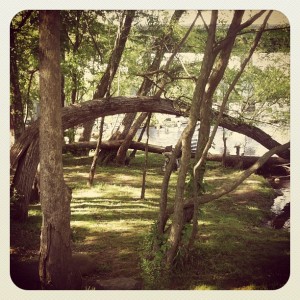 Soon I'll be backbending like this tree and benchpressing the whole thing. Ungh yeah.