This isn't a resolutions post, even though I am just the sort of person to do such a thing, being such a compulsive list-maker. This is more about things that I can see and feel and imagine so vividly that its as though I am willing them to be true.
I see myself earning my living doing something meaningful to me.
I am going to develop a close friendship with someone.
I know I am going to take this blog to more fantastic places, reaching a wider audience and doing (eating!) more awesome stuff to share.
I'll experience life in a way I never have before.
I'll keep developing this deeper sense discipline that I have been holding myself very highly to lately in regards to making sure that I spend 98% of my money wisely. There'll still be that frivolous 2% for grande lattes, cheddar and sour cream Ruffles from the gas station (my weakness, oh my weakness), and glow stick necklaces.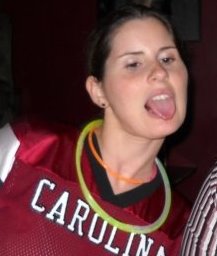 I'll take myself on an overnight trip to somewhere within driving distance just because (maybe the Blake Hotel?)
I'll run in at least two or three more 5ks.

Radar Love will get a new sibling this summer.