Around this time last year I found this awesome curvy dark blue wine bottle at World Market that I thought would look awesome as a lamp base. I bought the bottle of wine, and a lampshade from there, and a lamp wiring kit and glass drill bit from Home Depot and went to town on the wine when I got home. After recovering from that, I went to work on the lamp. Lately, I have been craving brighter colors in my wood paneled living room and went trolling on the World Market website and I happened upon this beauty: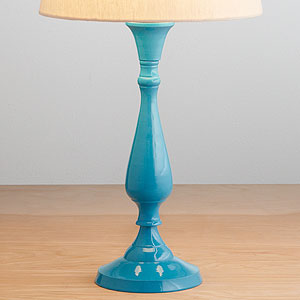 It's currently selling for $22.99 but I felt certain that I could recreate it for much less. On this long Thanksgiving weekend, I set out to acquire the materials to tackle the challenge.
My first stop was Thrift Avenue, a favorite thrift store of mine whose profits all go to Pets Inc. I stop by Thrift Avenue every few months or so to prowl for goods, and I've found a lot of great things there. I've also seen a lot of stuff that I have donated there for sale, which is pretty funny. I found exactly what I was looking for in a grungy old brass lamp that had a great shape and was going for $3. Score!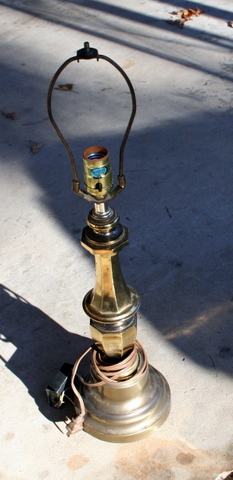 My next stop was the Cayce Ace Hardware for a metal primer spray paint, which cost $4.49. They didn't have a blue spray paint color that I liked, so I had to head over to Lowe's to acquire the color "Exotic Sea Spray" for $4.26.
Since there are directions on how t spraypaint on the back of the can, I'll just make this brief. The lamp got cleaned with a solution of warm water and dish detergent, wiped down dry, and the top part with all of the electric stuff in it got taped up and coated with two light coats of primer. My fancy spray paint stand is a beer box leftover from a party we had a few weekends ago. Someone likes cerveza!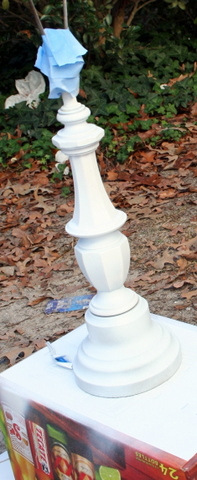 Then it got hit with two coats of this lovely blue paint.

I took inside for the moment of truth… and it made the worst electrical buzzing noise ever. I didn't trust it not to explode and send shards of lightbulb glass shooting all over the place, plus the buzzing was really annoying. So I took the whole lamp apart and took the wiring kit out of the old wine bottle lamp and put it in this one, without directions! My hands were dirty, I had tools out, and I felt like an electrical genius.
After a little trial and error, everything got put back together! There was no smoke, no buzzing, and nothing but prettiness and glory.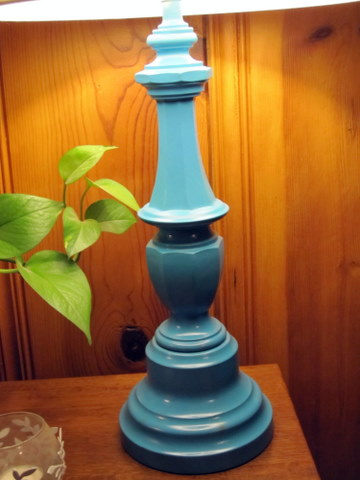 I think it looks fabulous, and at a cost of $11.75 for supplies, this was less than half the cost of the World Market lamp. Of course, I did already have a lamp wiring kit here to repurpose, but even if I didn't, those only cost a few bucks at the hardware store. This also was a great recycling project since it kept one less mass produced lamp from being bought, and kept this one from potentially getting chunked into a landfill.
My next thrift-hunting item is a nice globe that doesn't look like a child's toy to put in this wood room, which is turning into a map room, a direction that I am liking. I think this lamp, with it's map-ocean blue hue will tie in perfectly in this room. If you are in the Columbia, SC area and see an awesome full size globe (inexpensive, please) let me know where I can find it!
What have you upcycled lately or challenged yourself to make for less than retail value?