Yesterday was a perfectly temperate fall Saturday here in Columbia, South Carolina. I had an action packed day that started and ended with fun, exciting activities. A few wrenches got thrown into the plan, but they ended up alright. I started the day early for a Saturday, at 6:30 a.m. by getting up and drinking coffee before heading down to Carolina Stadium to run in the Ray Tanner Home Run 5k for my first race ever!
There were so many people there that wanted to run early in the morning! I couldn't believe it. I quickly got my race packet and attached the shoe clip and number with a little help from a more seasoned runner. Shoe clips are weird, I had no idea how to attach it! I was very jittery beforehand, and ended up going to the bathroom three times in an hour. I'm so glad there were real bathrooms there and not just nasty portapotties. Husband was supposed to ride his bike down to watch me and I was really counting on him to get my water bottle and jacket. Lucky for me he was standing just a block from the starting line so I threw my stuff at him as I passed. Love him!
I felt really good running this race. The first mile I kept a good pace (felt like I was going about 5 to 5.5 mph) almost the whole mile, but walked about twenty or so yards to the first mile marker. The second mile I alternated and speed walked a bit more so as not to burn out for the last mile. I only went really fast on downhills, and a great time boost to me was the big downhill on Meeting Street where it intersects with State, and on down to the Gervais bridge where it flattened out. I just let my legs spin out and used the bridge to walk as a recovery.
The second mile marker was just before a slight incline, which after the recovery walk overt the bridge, I managed to POWER UP that thing! Not going to lie, I was impressed with myself. The worst part of the race was going down Huger Street, about .5 miles from the finish line. There was another awesome downhill on Huger going across the Blossom Street intersection, and I blew through that like I was on fire again. Unfortunately, that made me feel the need to recovery walk right where people were gathering to cheer us to the finish. Another hard part of the race was coming back up into the stadium because the road was gritty with sand and there was another incline into the stadium. I thought I was going to fall out but then there was a tunnel of cheering people so I sped through down the third base line and into a PR of 34:10!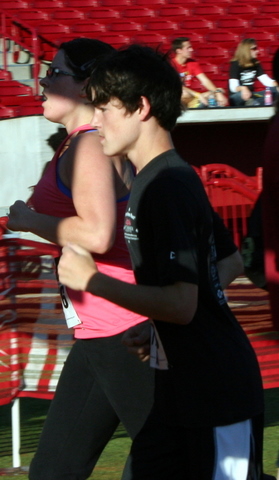 It was awesome. I am very excited about my time, which = an exact 11 minute pace, which is about what I was aiming for.
Of course I required some "Yeah I ran!" proof photos.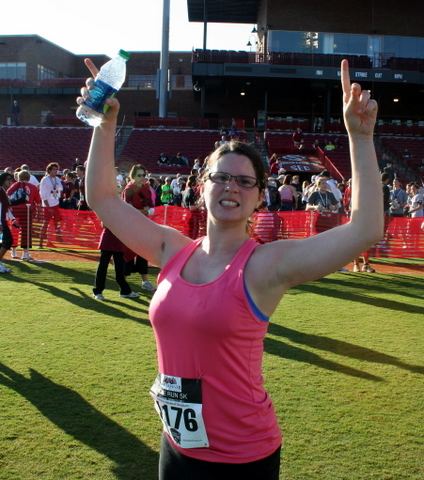 And then guess who I got to meet and pose for a photo with? Cocky! Yay! I've always wanted a picture with the real Cocky!
I really enjoyed the experience of running with a pack of people. There was one lady in this crazy colored racing shirt ahead of my that I made it my goal to keep my eye on the whole time as a way to keep track of my pace. I kept up with her until I got to .5 miles away from the finish and forgot about her and anything else except for keeping my legs moving, because it was around this point that I realized my feet were tingling and I could barely feel them anymore. Is that normal?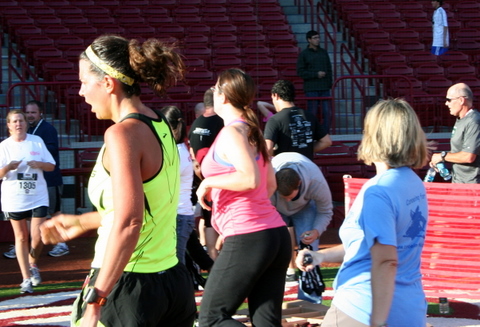 I definitely will try to do more 5ks, and am thinking about doing the Shandon Turkey Trot 4k but I also heard a group of runners at the Ray Tanner saying that races through Shadon were a real bitch because of the hills through that neighborhood. I may drive the course before registering to see how I feel about it, and if not, I'll probably pick up 5ks again in the spring because my delicate lungs can't handle sucking in the cold winter air, even though there are a few races in December. Brrr!