Asheville is the vegetarian epicurean wonderland of the Southeast. Being there for the day Friday, I had intended on eating as much while up there as possible, but didn't quite make it to as many places as I would have liked. However, the places that I got to sink my teeth into were delectable.
Lunch was a scramble because it was around 2 p.m. when I rolled into downtown Asheville. My Tom-tom was taking me through all of these back, neighborhood roads to get to where I was going, and Homegrown looked to be the closest restaurant. After passing by it twice on Merrimon Ave, I finally found it. It's easy to miss, especially if you're relaxed, hungry, and not sure what to be looking for.
Just a modest little establishment from the outside.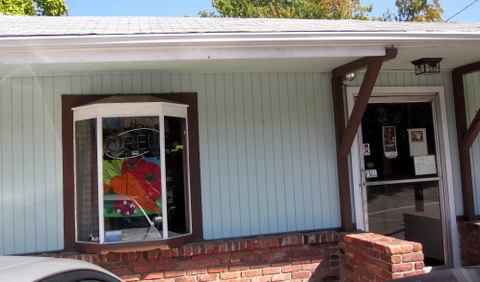 I had the marinated tempeh and veggies with brown rice. It was so good. Oh, so so good. The sauce it's in is a light, savory, brothy delight that is soaked into the brown rice and the tempeh. The tempeh was thick, chewy and perfectly prepared. I chose this dish because I wanted to see what people that knew what to do with it did with it. I couldn't finish it all between the brown rice, tempeh and veggies, I was stuffed. Not too stuffed for more herbal tea, which I asked the girl behind the counter about, and she told me it was Celestial Seasonings strawberry tea AND she filled my Camelbak to the top with more! Bless you, girl at Homegrown. I appreciated that small action for another two hours.
Next I decided to meander over to Lexington Avenue, where a lot of awesome shops and cafes and other appealing things were, so I stopped and shopped for a while at Virtue because they have tons of inexpensive basics! I was in heaven. I got 4 shirts and a hat for under fifty bucks. Next I came across this most amazing chocolate shop, Chocolate Gems. Oh my God. They lured me in with their gelato sign and the listing for lavender gelato. I can't resist lavender flavored things, so I went in and got a small gelato with lavender and pomegranate. The lavender is very good, both citrusy and piney at the same time, but a whole dish of it would have been too much. The pomegranate was a nice fruity break from -but still a complement to- the other flavor.
Of course I couldn't visit this delectable chocolate shop without getting a chocolate, and I waffled between getting a lavender chocolate truffle or a margarita truffle. Guess which one won? If you know me, you know I can't resist margaritas even more than I can't resist lavender. It was so good it isn't pictured, but imagine a thick, rich (but room temperature) margarita, and then pour it into a dark chocolate shell. Yeah. Yeah. It's like that but 20 times better when it's really in your mouth.
And I'll be back later in the week with one final installment of the Asheville trip. This will be the one with all of the awesome mountain views! See the first installment in which I relaxed in a natural hot spring here.