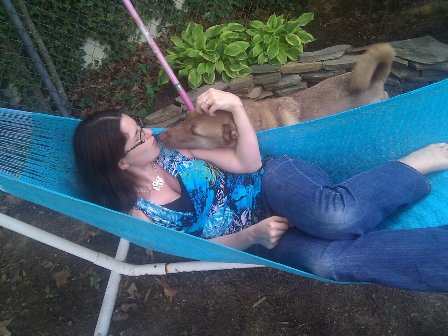 This was the place to be the past few days at my house, in the hammock gently swaying with the cool May breezes and a dog nose in my face.
The hammock is brand new, a second anniversary gift from the husband on our trip to Charleston on Monday. Second anniversary is cotton and we were both looking to get a comfy Pawley's Island style one to put in this corner of the yard. I have been trying to bring to life by elevating it with what has to be nearly 3000 lbs of topsoil and garden soil, adding a flagstone rock wall, and lush new plants along with moving some that pre-existed in other areas on the yard. You can see my pink shovel and some Last Dance hostas in the background.
It's great to have a place to relax now after moving so much earth and flora around. That's about all I had to say for today, being back at work is way more effort than hammock relaxing, but be assured I'll be right back in it come 5:20 or so.