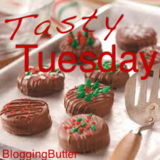 I thought I would join in on Tasty Tuesday from Marjorie at Blogging Butter! She is sharing a delicious treat that has Rolos in it, which is really making me want to run to the drug store and get a roll!
I am going to share a savory recipe that I got from my mom:
Pineapple Mango Salsa
Ingredients
•1 fresh ripe pineapple
•1 ripe mango
•½ cup red cabbage
•½ small red onion, peeled
•¼ c cilantro, chopped
•2 T fresh lime juice
•½ to 1 habenero chili**
Directions
Cut all pieces into small segments, combine in bowl. Refrigerate 2 hours before serving, keeps up to 2 days.
**Be smart and use latex gloves when handling these, and don't come crying to me when your eyes swell shut.
Ta da! That's all, just some chopping and chilling out before you're scooping this up in your mouth with tortilla chips! I recommend the Tostito Scoops to get the maximum amount of salsa in your mouth.